International Institute For Global Leadership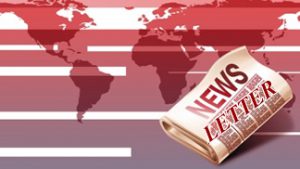 Issue #213 *September 2019
www.global-leadership.com
Asheville, NC USA
Guest Editorial
Announcing the 3rd Annual IIGL Conference: Transforming Leadership: Turning Today's Challenges Into Tomorrow's Triumphs
Kathleen Oweegon (USA/NM)
Oweegon@bridgesofpeace.com
I am vey excited to be returning to Lagos, Nigeria for the third time this coming November, when I will have the privilege of emceeing the 3rd International Leadership Conference on November 29-30. This powerful conference is being coordinated by The International Centre for Leadership Development Nigeria (ICLDNG) in collaboration with IIGL, and is titled: "Transformational Leadership: Turning today's Challenges Into Tomorrow's Triumphs."
Our 2013 and 2017 International Leadership Conferences were great successes, and we expect to have over 100 attendees join us in November 2019. We are very excited about this year's theme and our exceptional line-up of presenters and interactive experiences! Joining us this year, for the first time, is IIGL's founder, Michael Lightweaver (USA/NC), who will be one of the presenters. Michael is very much looking forward to meeting IIGL graduates, students, and future students while he is there.
The dynamic, engaging and interactive line-up of presentations will include skill-building in: communication, goal-mapping, networking, discovering your personal power, empowering those we lead, and living by design. ICLDNG/IIGL's leadership conferences bring together some of the most active, thoughtful, and influential people involved in leadership and leadership development from around Africa, the United States, and elsewhere. Our participants' range anywhere from young adults just beginning the path of leadership, to seasoned professionals with much experience to share. One does not need to be an IIGL student to attend this conference – it is open to everyone! Registration is open! Early-bird registrants receive a significant discount. Register by September 30th to receive the Early Bird discount!
In an effort to make the conference more accessible to a greater number of people, the registration fees have been reduced this year. To make this possible, we have created a Conference Sponsorship program, in which we offer free advertising at the conference, free tickets to the conference, acknowledgement during the conference, as well as many other benefits to businesses, NGOs and individuals, who provide financial or in-kind sponsorship for the conference.
How can you help make this conference a success?
1. Join us! Your presence will be an enriching experience for you, and your participation will enrich the experience for everyone.
2. Help us get sponsors! Be a sponsor yourself! It doesn't take much at all to help assure the success of this conference through a few generous sponsors.
How do you do that? Contact:
• Felix Iziomoh at: icldng@gmail.com;Tel: +234-7038222687, or
• Ethelbert Umeh at: ethelumeh2011@gmail.com; Tel: +2347036002800
Michael and I very much look forward to seeing all of you in Lagos in November, and to sharing this great experience with you!
What Others Are Saying
Emmanuel Ojimah (Nigeria)
emmisnoopafly@gmail.com
What Have You Learned?
I learned that my thoughts and character are the same and I cannot do without either. My thoughts influences and shows in my character. My mind and thought attracts what I love, hates, and fears. These elements are seeds that have been planted. Having in mind that whatever is planted my grow. My thoughts can make or mar me and this will show in my character. Whatever I fail to achieve or do actually achieve is as a direct result of my thoughts. I can never leave in bondage when my thoughts are alive and positive. I cannot achieve what I do not think of, my thoughts puts me in the right position to win, to achieve, to grow, to accelerate and to attain the highest height.
I have learned that diseases and sickness thrives well in impure thoughts and negativity. The effect of impure thought to my health and body cannot be over emphasized. Having a purposeless life leads to anxiety and depression. Just as negative thoughts leads to suicide so also do positive thought leads to bright and excellent ideas that can improve and change the world positively. What I envision is what I will eventually become. My visions and ideals are vehicles that take me to where I intend going. Without them, I would remain stagnant, and a daydreamers. I can only achieve what I dream of. Pure and clear thought leads to positive healthy lifestyle. So in order to stay healthy both in body, soul and mind, I have to have positive and clear thoughts.
I have learned that thoughts and character are one and the same. They complement and direct influence each other. I must therefore have good, clear, positive thoughts since it will definitely show in my character. It is very important to be clam: both within and without. A calm mind can think, get solution to challenges faster and can resolve issues on time. A clam mind reduces stress and high blood pressure. A calm mind leads to a long life in good health. Whatever I think of becomes and this has a significant effect on me and my environment. My thoughts and purpose are intertwined. The only way to archive my purpose in life is to have good, clear thoughts.
I learned that my thought factor directly affect my achievements. My aspiration and desires are my keys to great achievements in life. My vision will get me to where I want to be and my ideals will keep me there. I now see that whatever happens to me is as a result of my own doing and making. My thoughts are either my limitation or my transportation. There are times when I would have vowed to stop, to break, to end or to cancel, at such times we should forget about the pain but look forward to the gain which in turns leads to great gain.
I learned that my character is the physical manifestation of my thoughts. It was very interesting to me. My thoughts can be shaped, renewed, changed, improved, guided and shared with others and these transcends to my character as well. My mind is like a garden, it must always bring forth good or bad fruits: depending on what I plant or do not plant. My mind and thought are a very fertile ground that must be nurtured, groomed, guarded and watered daily. I concentrate too much on problems instead of solutions. Once I have improved myself, my circumstances will change for the better. I have to first work and improve our thought process then will my anxiety to improve my circumstances be reduced.
(Emmanuel is a Level Four Student).
What our Students are Reading
A New Earth Eckhart Tolle $10.40
"A wake-up call for the entire planet; A New Earth helps us to stop creating our own suffering and obsessing over the past and what the future might be, and to put ourselves in the now." Oprah Winfrey
With his bestselling spiritual guide The Power of Now, Eckhart Tolle inspired millions of readers to discover the freedom and joy of a life lived "in the now." In A New Earth, Tolle expands on these powerful ideas to show how transcending our ego-based state of consciousness is not only essential to personal happiness, but also the key to ending conflict and suffering throughout the world. Tolle describes how our attachment to the ego creates the dysfunction that leads to anger, jealousy, and unhappiness, and shows readers how to awaken to a new state of consciousness and follow the path to a truly fulfilling existence. Illuminating, enlightening, and uplifting, A New Earth is a profoundly spiritual manifesto for a better way of life and for building a better world.
Students/Graduates In Action
IIGL Student Announces New Book, "Against All Odds"
IIGL Level Four student and Board Member Japheth Aizebeoje (Nigeria) destinyjaph2007@yahoo.com shared the completion of his first book, entitled "Against All Odds." He explained: "Every successful person has a painful story, so never give up. A school bell that sounds as a disturbance at 8am also sounds interesting at 2pm…it is just a matter of time.
So don't envy anyone. Not everyone walking fast has an appointment. Some have running stomach! If a rose smells better than tomatoes, It doesn't mean the rose can make a better stew. Don't try to compare yourself to others. You also have your own strength, look for it and build on it. All animals that exist, were in Noah's ark. Snail is one of those animals. If God could wait long enough for snails to enter Noah's ark; His door of grace won't close till you reach your expected position in life. Never look down on yourself, keep looking up. Remember that broken crayons still color. Keep on pushing your goal and vision you never can tell how close you are to your goal. Feel free to contact Japheth directly for a copy of his ebook. He is interested in receiving reader testimonials!
Valuable Resources for Personal & Planetary Transformation
Daily Inspirational Quotes
www.dailyinspirationalquotes.in
The organization was founded in 2012 and has followers on Facebook and Twitter. Read inspiring, positive, life lesson and relationship quotes, and healthy and positive lifestyle articles, posts which uplift your spirit and motivate you to follow your dreams, and helps you to live a happy and peaceful life. Quotes are from famous people in history as well as current motivational writers and speakers! Contact email is: dailyinspirationalquotes.in@gmail.com
News
IIGL Book Sales Continue…
The IIGL Board of Directors shared that the IIGL book, "Creating Your Path Through Leadership" book sales continue to provide a Royalty payment to IIGL each month. It has also helped new potential donors understand more about IIGL! The book is available both on Kindle and in Paperback on Amazon.com! Check it out! Here's the link: https://www.amazon.com/s/ref=dp_byline_sr_book_1…
Meet Our New Students
We had 1 new student this month
Taiwo Oderinde (Nigeria)
I am a young man from Nigeria passionate about making positive impact and profits and helping others to do the same. I am an individual committed to self development influencing other youths towards positive change. I am the founder of Tom Jasper Communications (formerly Concepts), a branding and design company helping leaders and entrepreneurs to create strong brands and global platforms with excellent communication strategies to engage and expand their audience. I currently work with SMEs and organizations from different fields like The First Word Empowerment Network (an NGO focused on youth development), Exploits Enterprise Academy (an academy focused on top notch skills empowerment and entrepreneurial education), musenta.com (the first Africa online music market place), Entrepals Club (a support community for leaders and entrepreneurs), Academy for Health Development and many other smart organizations. I am a servant-leader who has served in more than ten youth organizations since he started his leadership journey at the age of 14 and has received several awards for his commitment to community development services.
To view complete profiles, Click Here
Visionary Leadership
Student Progress
We had 6 students from 3 countries complete a total of 9 books in August. These students were from Kenya, Nigeria and Uganda.
Diba Kosi Bilinga (Kenya)
* How to Win Friends and Influence People
Mbaegbu Innocent (Nigeria)
* Success through a Positive Mental Attitude
Taiwo Oderinde (Nigeria)
* As a Man Thinketh
* Jonathan Livingston Seagull
Emmanuel Ojimah (Nigeria)
* Goal Setting 101
Olakunle Michael Oladoyin (Nigeria)
* How to Win Friends and Influence People
Anita Kiddu Muhanguzi (Uganda)
* Goals
* Maximum Achievement
* Nonviolent Communication
Graduates
The following Student completed levels of study this month
Emmanuel Ojimah (Nigeria) completed Level Two and Level Three
Statistics
New Enrollments
4 enrolled in August
42 enrolled in 2019
Book Assessments
9 in August
98 in 2019
Books Shipped
1 in August
23 in 2019
Cost of Books
$12.66 in August
$456.27 in 2019
You Make It Possible
We extend a special thanks to the following individuals and/or organizations who contributed to IIGL last month. Your ongoing support makes this work possible.
Deb Silver (Israel)
Lynne Murguia (USA/AZ)
John Hornecker (USA/NC)
Michael Lightweaver (USA/NC)
David Banner (USA/WI)
Harri Hoffmann Family Foundation (USA/WI)
Deb Rosen (USA/WI)
Patrice Zorn (USA/WI)
Make A Difference
Dream Team 22
Please join Dream Team 22 as our goal is to have 220 people contributing $22 per month. We understand that money is energy and that to sustain and build IIGL we need a lot of people pouring their energy into this endeavor on a regular basis. We also know that not everyone can afford to commit $22 a month – especially our students, who live in countries with economies in which this amount can be equal to a weeks' salary. So we are offering two options for those who wish to become a part of the Dream Team. One can commit to a $22 a month contribution or to spending 22 seconds each day holding the vision of IIGL becoming financially sustainable by the end of 2018.
Will you join the Dream Team and help us create an energetic foundation to support the transformational work of IIGL? You can really make a difference in the world by making a modest contribution of time or money. To make the $22 a month commitment or a one time donation, click the link below. To become a member of the Dream Team 22 by committing 22 second a day to help us hold the vision, contact Deb for details: drosen2@wi.rr.com
Checks on US banks, payable to the International Institute For Global Leadership, can be mailed to IIGL, 11537 N. Lake Shore Drive, Mequon, WI 53092 USA. Contributions may also be made by credit card by clicking the link below. Contributions are tax deductible under the 501 (c) 3 tax code of the United States Internal Revenue Service.
To Contribute By Paypal, go to www.paypal.com and make donation to iigl.globalleadership@gmail.com
To Contribute By Credit Card, Click Here