Cameroon
Yieh Odette Gwain
yiehditto@yahoo.com
I am Yieh Odette Gwain a female Cameroonian who lives presently in
Bamenda and working as Bilingual Secretary in a renown Security Company. I am perfectly bilingual as i speak, write and read French and English. I like humanitarian actions which can help in the education of the under privilege in the society in which I find myself. I think personally that Cameroon is blessed in very many ways but lacks the proper means to exploit their resources or better still they do not have a proper mastery of their resources and they ways through which they can exploit them. Reading is one of my passions amongst others. I read a lot of educative books and I believe that if things went as they are said in books then the world will become a wonderful place to be and live in. Together we can make the world a place to be. I have had some experiences and has attended two workshops on leadership training and skills organized by the Company in Which I work. My hobbies not withstanding are: Watching TV, Reading books (Novels and other educative books), Internet, Typing, Sports and Traveling.
Côte d'Ivoire
Roger Yomba Ngué
yombaroger2005@yahoo.com
I am Cameroonian by birth and an alumnus of the Jesuit fathers. After high school Degree G3 (Marketing), I obtained a college certificate for Business Management with option in Marketing at the Information Technology Institute (ITI), Douala, Cameroon. Other professional certificates earned include Computer base Data Management; Treatment and transmission of information; Leadership; Factory Management; Mining and Petroleum Economy; Proventive Peacebuilding, Conflict Transformation and non-violent conflict resolution obtained in Cameroon, Côte d'Ivoire, South Africa, Ghana and Benin. Currently, I am in my level 3 studies with the International Institute for Global Leadership (IIGL), Asheville, North Carolina, USA. I am also a candidate for a Public service MBA studies at the International Development Department, University of Birmingham, United Kingdom.
I grew up in a country (Cameroon) where the classical education system was under turbulence. I then decided to put emphasis in professional training while working to improve my effectiveness to contribute to the development of my country and Africa and a peaceful world. This is still my overall objective. My constant quest is to become a role model for the African youth and symbol of struggle, commitment and determination for a new world leadership and the change in my country Cameroon.
I joined IIGL because I felt comfortable with the concept that matches my vision and objective. I am very proud to participate in the program as it strengthens my capacity and improve my leadership ability. Now I wish to serve the Institute by contributing to the development of the curriculum, the drawing up of a francophone branch and motivate French speaking students to join the program.
I am holding various college and professional certificates with sound experience in fields as Conflict management, and leadership. I have been nominated as laureate by the international Committee of Century Quality Award, Category gold (Geneva, 2003) and was awarded the NEPAD Award for Individual Personal Contribution (Johannesburg, 2004).
Ethiopia
Bereket Alemayehu
albereket@yahoo.com
I was born in Addis Ababa, the capital city of Ethiopia on December 1st 1978. I
am the second son of my parents. When I was a baby my father left us and went to war frontier in the east of Ethiopia. Since then all of the responsibility was on the shoulder of my mother and she raised us without our father's involvement.
When I was in the elementary school I had been involved in school's mini media club as a journalist. Since then love of literature and philosophy was developed in my heart and mind. Before graduating from Ginbot 20 residential high school at 2001, I joined Fortune, a local weekly newspaper as sales and marketing promoter until 2002.
After that I worked at Novell Net Computer Technology in the same position. As the same time, I had been involved in various organizations such as Ethiopian family Planning Association youth center, Webet Amateur Journalist Club, Pact Ethiopia, Youth Network Club and so on.
More over, I have attended various workshops, seminars, and symposiums on IT, youth forum, policy issues and religion.
November 2004 I founded with my friends Energize Ethiopia, a local NGO working on solar energy, basic and adult education, environmental protection and health literacy. In Energize Ethiopia I have a position as deputy manager. In addition, I am working at Music MayDay Ethiopia, a NGO working on art and culture under the objectives of "Youth education through popular forms of art for positive thinking and development"; Dance4Life school pilot project as an assistant coordinator.
Also I am involved at MM-ET book reading club, Book for Ethiopia, Quantum discussion group. Presently Asian classics institute, based on USA, is teaching me through distance learning Buddhist philosophy.
Finally I would like to express my deep desire that I am committed to serve human kind in order to bring a better change and consciousness for our world. Personally I like reading, discussing, travel, and as special interest am studying Secular Humanism.
http://www.facebook.com/pages/Global-Leadership-Ethiopia/166298506801537
Ghana
Dennis Korbla Amego PenuDennis picture.
dennispenu@gmail.com
My name is Dennis Penu; a youthful Ghanaian advocate and activist in youth and community development issues. I am passionate about volunteerism and currently volunteer as Director of Programs for Life-Link Friendship Schools, Ghana which I joined in 2005. I am an alumnus of the secretariat of the Global Model United Nations (GMUN) conference organized by the United Nations in Geneva, Switzerland in 2009. I am also a Fellow of the Peace Conference of Youth (PCY) organized by the Junior Chambers International in Osaka, Japan in 2010.
I am a Biomedical Scientist with a BSc. (Hons.) in Medical Laboratory Technology from the University of Cape Coast, Ghana where I currently work as a Senior Research Assistant. I am pursuing a Masters' degree in Peace and Development and aim to build a career in Health Development. I like writing articles and attending conferences in my quest to meet more people, share ideas and create networks for development which I share on my blog (www.developtodevelop.wordpress.com ). I started IIGL studies in February 2011 because of my interest to develop effective skills in leadership for my youth and development work. I believe the Level two studies have so far had the biggest impact on my ideas in leadership and I am willing to learn more as I grow in this program.
Kenya
Erick Kebeka Omari
omari15ke@yahoo.com
My names are Erick Kebeka Omari, I was born on 15th January 1982, in
Kibera, My ethnicity is Mkisii from Gucha District, Nyamache Location and Nyoera Sub-location. We are Six in our family and I am the elderest.
My parents passed away on 23rd March 2003, both of them on a Road accident. They used to do some Business, purchasing food stuff from Kisii and transporting them in Nairobi for selling that is when they got the accident while traveling. This left me being responsible for my young brothers and sisters.
Before they got the accident I was a member in one of the youth group (ICYE), International Cultural Youth Exchange), in Nairobi, the organization is based in Westland, and during that time I was supposed to travel to Finland for an exchange programme.
Nigeria
Iziomoh Bidemi Felix
flelixi@yahoo.com
In addition to being the Nigerian Coordinator for IIGL, I am the founder of Beeflex Sports a subsidiary of Beeflex Ventures. I am a graduate of Human Kinetics from the University of Lagos, Nigeria and also one of the first graduates of Social Entrepreneurship and Leadership studies with the International Institute for Global Leadership based in the USA.
I am also a member of the board and a mentor of International Institute for Global Leadership. I have won several awards as a volunteer soccer coach from the American International School Lagos, Nigeria and written numerous published articles which cab be read at www.articlebase.com and www.global-leadership.com. I am also the author of two books titled: "African Leadership 101" and "The Way Forward."
Rwanda
Charles Kabera
kabcharles@yahoo.fr
My names are KABERA Charles, a Rwandan by Nationality. I am IIGL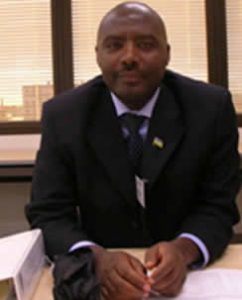 National Coordinator in Rwanda.  I work in Rwanda Revenue Authority, Planning & Research Department, and I currently head Operations Policy Unit. I completed my Bachelor of Law Degree Program this year at Kigali Independent University (Rwanda). I hold Bachelors Degree in Law (LLB) and a Diploma in BusinessStudies.
I ensure that the Rwanda Revenue Authority operations Policies are developed and the main duties are to: develop operational policy of Rwanda Revenue Authority; Prepare and review work instructions for Rwanda Revenue Authority; Identify priority areas in Rwanda Revenue Authority for operational policy development; provide guidance for the future development of standardized processes and policies; Come up with proposals for areas where a policy is needed; Set and monitor operation performance standards; Coordinate the modernization of Rwanda Revenue Authority and identify any structural changes arising from the re-engineered processes;
I also have qualifications in: Auditing and Public Finance; Elements of Banking; Data processing; Certificate in Taxation; Certificate in International Players In Public Finance & Debt Management; Certificate in Conflict Analysis; Diploma in French Language; Leadership (IIGL).
I have more than ten years of working experience in different fields related to Customs, Taxation and Auditing. I wrote book 'Legal and Administrative Mechanisms Used to Control Tax Offences' published by LAP Lambert Academic Publishing, Germany.
I have been in a variety of social situations and have handled them all with confidence. Being exposed to so many different social environments has taught me how to appreciate and learn how to empathize with others. I have developed a great respect for people of all cultures and backgrounds. I learn something new every day and my goal remains to pass on my skills and expertise and to deliver the right advice at the right time, to achieve sustainable change.
http://www.facebook.com/pages/International-Institute-for-Global-Leadership-Rwanda-Chapter/262539893794827
Togo
Davui Kosi Sepenou
isdavui@yahoo.fr
I have always been interested in human development, social work-human service and humanitarian actions. I began this in my family, through my parents. This led me to community service in a variety of activities with local NGOs in my country Togo . I served as volunteer in the field of peace mission-projects, assistance to disable and old persons, protection and promotion of children's education, youth development, advocacy on human rights, campaign on health concerns and protection of environment.
With my graduation from IIGL studies, I am making career in social entrepreneurship and leadership as change maker, agent of change. I am consultant, educator, trainer and coach. My aim is to get involved in people's development in general, youth in particular.
I have profound and particular respect to parents, older persons and children. I love family life as home peace maker.
My goal in life is to take part in the well being of others as helper, advisor available to serve human cause anywhere. I am highly interested in the social, ethics, human virtues and philosophic studies. I am a lifelong learner to know more and further about human diversity. Self help books are my favorite.
I believe any authentic change and transformation begins from the self. This is my first personal leadership experience. I hate greed, a zero-sum view of the world, inertia, lack of trust as well as lack of vision and leadership and unity of purpose in life. Those are constraints and forces which hinder our personal and collective development. For me, any human sustainable development begins from self knowledge and consciousness. It is the focus on self awareness, empowerment and improvement, growth and development to undertake something worthwhile to change one's life in the positive way; reach success and happiness. It is a choice to live purposefully to shape a destiny. It is a matter of personal responsibility to take a stand for one's life to reach others. It is a personal process of liberation man engages to make wonders achieving peace, prosperity and freedom.
www.ipftogo.org
Uganda
Noeline Kirabo Mulongo
iigluganda@yahoo.com
My name is Noeline Kirabo Mulongo. I joined IIGL in 2005. I got to know
about this institute as I was surfing the net for worthwhile opportunities and IIGL was just perfect in timing. I needed something to inspire me onto my next level. I was pretty tired of all that was happening in my life because it seemed the same usual stuff which no longer gave me any motivation.
I remember the first provisional book that I worked on; I just could not have enough of it. I read it over and over again and was wondering why it had taken me so long to discover such a resourceful site. I must say my life has not remained the same ever since I enrolled.
From as early as I can remember I have always been passionate about leading and influencing others positively. I have noticed over time that wherever I go, I have people follow me and buying into my ideas. It amazes me some times. IIGL is helping me direct my efforts in the right direction.
I am currently leading/ coordinating the IIGL student's body in Uganda which meets once in two months and is experiencing steady growth and increase. I chair a committee of three that serves over 20 students currently. I love pioneering; it is part of who I am.
I am a counselor by profession and one of the things that gives me so much satisfaction is being able to help another person live a more full and meaningful life. I am also a trainer/ facilitator as well as hold several leadership positions.
I am humbled to be on the board and I look forward to serving my fellow students and stakeholders. Together we can!!
Zimbabwe
Joseph Ngonidzashe Zvoushoma
zvoushomajn@gmail.com
I am a 21 year old vibrant young man, I did both my primary and high school education in Harare. During my early days of high school I always wanted to be a Chartered Accountant, this was as a result of my father who was in the accounting field and I was always a good accounting student during that time, however later on in 2006 there was a change of fate when I enrolled for my undergraduate, I switched from Accounting to Business Studies majoring in Finance& Banking. As far as I can remember I never used to be a sporting person, only that I liked watching tennis matches only until have i started playing squash and table tennis. In 2008, I was one of the 10 students from the University of Zimbabwe (a University of +10000 students) who attended a Transparency Leadership Seminar that was hosted by Transparency International Zimbabwe (TIZ) an affiliate of Transparency International, and awarded certificates of the transparent leaders of tomorrow. My dream is to become a leader in Africa's Financial Solutions and would want to see an African renaissance in my generation. My dream aims at impacting not only Africa but the whole world, i believe in empires that run from generation to generation .I aim is to become a Chartered Financial Analyst by the age of 27, and do an Msc in Finance and Investments before the age of 30. I have networked with people in Tunisia, South Africa, United Kingdom and Botswana in preparation of being a Global Financial Leader. I have read quite a number of books as Rich Dad Poor Dad by Robert Kiyosaki, Napoleon Hill's Think and Grow Rich, Purpose Driven life by Rick Warren and my favorite ever The Runaway Jury by John Grisham. Currently iam studying an Honors Degree in Finance and Banking with the University of Zimbabwe and will be graduating in the year 2010. Iam currently on vacation and working as an attaché student with a local bank. My short-term goal is to get into Investment Banking just after graduating and amass as much as possible experience before I get to the age of 30, later on I would want to engage in Financial Consultancy, where I would be involved in managing projects and consulting in areas of investments. On a broader perspective I would want to start a non-profit organization responsible for engaging in Global Poverty Reduction and Alleviation specifically targeting the widows, the aged and children through financial empowerment and impacting them with the most needed knowledge and wisdom. To sum it all, I always give thanks to my parents and my little brother who have been with me always in good and trying times, giving me spiritual and physical support. Iam a firm believer in a world that will ultimately unite for the betterment of every individual, I have faith in the leaders of the coming generation, a generation that will produce honest and responsible leaders a generation of leaders I will be part of. "The quality of a leader is reflected in the standards they set for themselves"- Ray Kroc.