International Institute For Global Leadership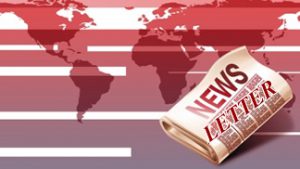 Issue #108 * December, 2010
www.global-leadership.com
Asheville, NC. USA
Guest Editorial
Luck or Law
By Dr. Kenn Gordon (Canada)
One of my favorite stories is of the man whose lucky number was five. He was born on May 5, 1955. He lived in apartment 505 at 555 West Fifth Avenue. He had five brothers and five sisters, and so on and so on.
As it happened, on his 50th birthday (05/05/2005), he was sitting quietly at home reading the newspaper. He happened to notice at the track that day, there was going to be a race in which a horse by the name of Lucky Five was due to compete in the fifth race with odds of five to one.
Ecstatic at this marvelous sign from the Universe, he immediately jumped up and drove to the race track where he put $5,000 on Lucky Five to win. The horse came in fifth.
The lesson, of course, is that the Universe never plays favorites. What we have in our lives is the exact projection of our beliefs. Our thoughts, feelings, and beliefs manifest in our reality and our experience-to the letter, or perhaps in this case, to the number.
Our teaching includes two essential directives. One is, change your thinking, change your life. The other is, know what you are thinking and respect it, for it is guaranteed to manifest in your experience.
If I think I am going to step outside the front door of my house and get hit by a bus, I leave by the back door. There is nothing wrong with our thinking; it is a gift. We can change it or respect it; the choice is up to us. It is said that Dr. Ernest Holmes was once approached by a person who asked him why someone with his belief system and connection to life had to wear glasses? His response was, "I wear my error on my nose. Where do you wear yours?" Our purpose in life is to be honest with ourselves as to what we believe. Accepting it or changing it are options. Denying it will not bring to us what we desire.
I look upon my life as a simple mission. That mission is to align my beliefs with my desires while respecting and enjoying the experience of being throughout the whole exercise. I know I have not completely mastered this, so what I am left with is an opportunity to continue in this gift of an experience called life.
To become Absolute is not my aim; to blend the relative and Absolute is. This is probably true for all of us, and in order to do this, we are called to know what we believe as well as what is possible. As such, we may move forward in our own conscious evolution while remembering that by Law, one times one will never equal five.
(Dr. Kenn Gordon is co-pastor of the Centre for Spiritual Living in Kelowna, BC. You may contact him at kenng@intcsl.org)
What Our Students Are Saying
Ayoade, Anthony Ayodeji (Nigeria)
Anthony Robbins said, "Every upset you've ever had with another human being has been a rules upset. You weren't upset with the person; you were upset that he or she violated one your rules, one of your standards or beliefs about how things must or should be".
My work as a project supervisor demands that I look for details in projects being executed. Unconsciously, I carried the metaphor of my work and the rules that comes with it to my personal life. I used to seek for perfection from people, but now I've discovered that this personal rule is inappropriate and self-centered in my relationships. I am happy to discover that this had been the major cause of my wrong emotions of anger depression, and so on. My wife, children, co-workers, and so on need not perform according to my expectations before I decide to feel good. Now, I consciously know that if my topmost value is love, I must create new rules to reflect my new personality: To love irrespective of people's behaviors or any condition I find myself.
You have relationships with others based on your unconscious and unwritten rules on how people should behave. It is revealing to know that your outer self also relates with your inner self based on your unwritten rules on how you should behave. Fear, anger, depression, disappointment and other negative attitudes show up when any of your rules are violated by people or by yourself for how you should behave. Only a few people who have the awareness are not inside this circle.
When you get upset with yourself or someone, you are only reacting to the violation of your rules for the particular event. If you have not clearly communicated the rules, you are merely expecting them to know what they are. Why should you expect people to live by your rules if you are not willing to compromise and live by some of theirs? If anyone goes against your rules whether you have made them known or not, open a line communication.
News
IIGL 2011 Board Meeting Set.
Mark Your Calendar. The IIGL board of directors meeting for 2011 has just been set for Monday and Tuesday, June 13th & 14th at Mountain Light Sanctuary in Asheville, North Carolina, USA.
IIGL Mentorship Reorganization
Beginning in 2011, we will no longer administratively attempt to coordinate mentor-student liaisons. With the new arrangement, when new students qualify for a mentor, after completing level one studies, they will be able to contact a potential mentor directly and request their mentorship. This will be much easier than our current process and also provide for more self responsibility on the students part.
http://instituteforgloballeadership.ning.com
IIGL Wins $5,900 Grant
We are very pleased to announce the receipt of a $5,900 grant in October from the International Centers For Spiritual Living. ICSL is an organization of spiritual communities that honor all paths to God and offers spiritual tools to for personal and planetary transformation. You can learn more at their website: http://www.rsintl.org/
Students In Action
Bikundo Onyari (Kenya)
http://www.andekenya.co.ke
Bikundo, Onyari, one of only seven IIGL graduates, has taken his IIGL experience to the next level, have created his own business called "aNDE Coaching Kenya." aNDE derives from the latin verb ANDARE which means to walk, move, grow and develop. The company offers training and coaching services to high school students and young professionals in East Africa. Wit a focus on offering clients the ability to find clarity, get extraordinary results and live profoundly satisfying lives. Recently aNDE organized a youth coaching conference, with sponsorship from Toyota. Over 90 participants took part in the October 16th conference in Nairobi and laid the foundation for ongoing events. For a copy of the full report of the conference, contact Bikundo at onyarib@yahoo.com
What Our Students Are Reading
The Art Of Conscious Creation
By Jackie Lapin
Are you ready to learn how to manage your personal energy frequency for the purpose of personal and global transformation? The Art of Conscious Creation gives you the simple yet extraordinary techniques to "Consciously Create" the life you yearn for and desire! This compelling book reveals the 25 Universal Guiding Principals that lead to a happier, more fulfilling, prosperous, and struggle-free life. You will then discover how to apply these remarkably powerful skills on behalf of the planet, helping to manifest a world that is free of hate, war, rage, hunger and environmental destruction…a world instead filled with peace, prosperity, unlimited opportunity and joy for all. Contained within this book are keys to mastering visualization on a personal and global level, to harnessing the energy that can change your life, impact the Universe and transform the world. Learn how joining with others can magnify the power of your thoughts exponentially to create a bountiful future.
Valuable Resources for Personal & Planetary Transformation
AfriGadget
http://www.afrigadget.com
AfriGadget is a website dedicated to showcasing African ingenuity. A team of bloggers and readers contribute their pictures, videos and stories from around the continent. The stories of innovation are inspiring. It is a testament to Africans bending the little they have to their will, using creativity to overcome life's challenges. An inspiring site that show how attitude and creativity are everything; how what one sees as junk, another sees as opportunity.
Meet Our New Students
We are please to welcome four new active students this during November. They are from Cameroon, Sierra Leon, Uganda & Zimbabwe.
Joannes Paulus Yimbesalu (Cameroon)
I am African coming from a country in West Africa called Cameroon often known as "Africa in miniature". I come from a family of 4 and attended 23 years of education back home. I am a Medical Laboratory Scientist by profession and later worked with a Malaria Research Institute on a WHO sponsored project. After that I came to the USA and presently in my 2nd years of my Master degree. I just earned an online Masters degree in Public health and a Diploma on Nutritional and Health Sciences from Corlins University. Presently I am taking another diploma course in Human and Social services from the same universities. I am also taking some Public Health Courses. I attended the 5th Global International Conference on Human Rights organized by UNESCO in Storrs Connecticut last August 2009 during which we discussed a lot on issues hindering peace in the world. I just came back from attending the 2nd Global International Conference on the theme "Investing in Women for It Pays" in Washington DC organized by Women Deliver where UN agencies, First ladies, parliamentarians, Ministers and NGOs discussed on issues affecting infant and maternal health. I was a member of the Rotaract club in my school. I love listening to gospel songs as they make my heart peaceful through their wordings. I love making new friends too. All said and done, what other gift can we give our world to make children who are helpless smile and make their dreams come true someday.
Quintin Berestford Small (Sierra Leon)
I am a native of Sierra Leone, a small coastal country with an area of 71,740 sq/km, between Guinea and Liberia in the west coast of Africa. I was born in Freetown to Mr. William Small on 2nd December 1971. I grew up to be a quiet man, full of ambitions, but with few success stories due to my poverty stricken background. With a good sense of humor, I always wants to get it right. I am married to a lovely wife and have a beautiful daughter. Being robbed of my childhood days, I grew up with a deep social dent. Anything with extreme social flavor makes no demand on me. Should I say I am conservative? Certainly I will be only describing myself in a sentence. Decency and straightforwardness will be the most appropriate way to say about my personality.
Certainly I lived my life heedlessly in a pigheaded manner. I was born into a very poor and scattered family of African standard and was strictly raised in a loose setting all by MY father and guardians, thus making me prone to all kinds of abuses because my father was a womanizer. I however managed to learn a disciplined life due to the inner hurts I bore in my childhood. For thus is also my approach to life. My parents sent me to school and I attained to tertiary level with double bachelor degrees in Theology and Administration and will soon complete my Masters Degree in Business Administration. I was lost in the cocoon of self pity though I considered myself very modest and morally upright. Being from a very humble background, I was very naïve to the fads and tides of my youthful days. I was a potential scholar, yet lacked the slightest glimpse of who would lead me on unto achieving that as I had no parenting care. I was marred with neglect, as my father cared only for his numerous play mates. I did not give up however and was determine to push no matter how slow and difficult, and ever since I have been moving on, although slow and hard, but confident of the end which is no doubt fulfilling.
As a person, I am interesting in reading, and my goal is to be serviceable to humanity in whatever capacity I can. I have been to few countries and to name a few, Guinea, Ghana, Nigeria, and Italy. My favorite reading is on religious issues and current affairs issues. I have served as a missionary and also engaged in different agricultural and community developmental projects. I am fond of adventurous movies and anything adventurous.
Words are the product of the mind, and they are the channel through which great ideas travel. The ability to convert such words into writing prepares the platform for great learning that lead to great success and the developing of great minds. Education has been my dream because I believe that a man can only make his way to the top in his society if he is educated; and that education is a process of learning to the developing of one's mind, which will ultimately gives him the opportunity and capability to reach a wider audience. With education, I believe that the articulating of matter can be done in a more analytical way. Thus, my philosophical conception on this is that "Books make great minds, great minds make great people, and great people shape and determine the courses of event all around them." The pace is dictated by them as they lead and others follow. National, international, personal, economical, technological, and infrastructural development and advancement would never have been possible if not for education. To me therefore, education is optimal to growth, development, and advancement and up-building.
Yvonne Nabwire Kilama (Uganda)
I am a Christian 27 year old, married to a fine man called Dennis, a Lecturer. I am trained in social work, counseling and life skills development. I have had the experience of child development work with various organizations; The AIDS Support Organisation, Compassion International, World Vision and I am currently working with the Child Welfare and Discipleship Department in Watoto Childcare Ministries. Watoto is positioned to rescue vulnerable individuals, raise them as leaders in their different spheres of life so that they will in turn rebuild their nation. Personal interests; I like to read inspirational books, Listen to music and enjoy traveling. I also like to make new friends. I firmly believe that Jesus Christ the solution to the world's problems. In Him we live and move and have our being.
Edwin Shumba (Zimbabwe)
I am a young man aged 29 and happily married. I have a lovely daughter who is two years old and I am a devout Christian. I hold a Bachelors degree in Medical laboratory Sciences from the University of Zimbabwe. I am studying for a Clinical Research Associate (CRA diploma) as a well as for a Diploma in Applied Monitoring and Evaluation. Currently am working for a Clinical Trials Unit Laboratory, at the UZ School of Medicine as a QA/QC Scientist. I am a passionate entrepreneur with interests in farming, consultancy and real estate. My dream is to retire from employment at 40 and to concentrate on my businesses and voluntary work with people living with disabilities. In the next 5 years 2011-2016 my goal is to be a millionaire. I would like to go to America and learn new business ideas by 2015.
I read quite a number of books some my favorite books include: 7 habits of highly effective people, Rich dad poor dad, Retire rich retire young, Richest man in Babylon, Think and grow rich, Five major pieces to the puzzle of life, Outliers , Africa greatest entrepreneurs, Purpose driven life. I have participated in a number of HIV prevention trials which include MIRA project and a number of the HPTN studies. In terms of leadership I held several positions in youth group and I am currently the Local Chairman for my church Lutheran, – in Hatfield, Harare ,Zimbabwe. My passion is to teach people to know God and financial independence. I really want to change the world starting with Africa. My upbringing in a high density area in Chitungwiza exposed me to some heart breaking poverty, disease and ignorance that is prevalent in most African societies. This gave a real life challenge on the magnitude of the problems in developing countries. It is my desire to liberate my fellow brother to a high state of life. I strongly believe that service to humanity I the best work of life hence am involved in a number of community initiatives to change the world.
Thanks!
We extend a special thanks to the following 24 individuals and/or organizations from six countries who contributed to IIGL during November. Your ongoing support makes this work possible.
Deb Silver (Israel)
Gillian Kean (UK)
Edmee DiPauli (UK)
Nahla Rafai (Jordan)
Mark Mazadu (Nigeria)
Lorne Cooper (Canada)
Lily Ann (USA/NC)
Deb Rosen (USA/WI)
Margie Tice (USA/NC)
Ron Walker (USA/VA)
Judith Royer (USA/ND)
Dina Kushnir (USA/NY)
Corine Wilson (USA.FL)
David Banner (USA/WI)
Heidi Stewart (USA.NC)
Julie Loosbrock (USA/WI)
John Hornecker (USA/CA)
Lynne Murguia (USA/AZ)
Unity of Huntsville (USA/AL)
Rosalie Deer Heart (USA/ME)
Michael Lightweaver (USA/NC)
Wanda Gail Campbell (USA/AL)
Janae & Barry Weinhold (USA/NC)
Int. Centers for Spiritual Living (USA/WA)
Student Progress
We had 17 students from 9 countries complete a total of 32 books in November. These students were from Cameroon, Kenya, Nigeria, Rwanda, Sierra Leon, Sudan, Uganda, USA & Zimbabwe.
Yieh Odette Gwain (Cameroon)
· The New Dynamics of Winning
Joannes Paulus Yimbesalu (Cameroon)
· As A Man Thinketh
· Jonathan Livingston Seagull
Mamer Garang Nyok (Kenya)
· Keys To Success
Vivian Muciri (Kenya)
· The Law of Attraction
· The Power of Intention
Edwin Akpan (Nigeria)
· How to Win Friends & Influence People
Elebiju Sunday Tope (Nigeria)
· Unlimited Power
· Giant Steps
· Goal Setting 101
· Nonviolent Communication
Offor Kennedy J. (Nigeria)
· Keys To Success
· Giant Steps
· PsychoCybernetics
· Real Magic
· Nonviolent Communication
· How To Win Friends & Influence people
Elayira Peri-Okonny (Nigeria)
· PsychoCybernetics
Charles Kabera (Rwanda)
· Goals
· Leadership For Dummies
Mustapha Klah (Sierra Leon)
· The New Dynamics of Winning
Quintin Berestford Small (Sierra Leon)
· As A Man Thinketh
· Jonathan Livingston Seagull
Francis Okeny Silvio Ochira (Sudan)
· The Power of Intention
Yvonne N Kilama (Uganda)
· As A Man Thinketh
· Jonathan Livingston Seagull
Harriet Opondo (Uganda)
· Real Magic
· How To Win Friends & Influence People
Lindzee Lindholm (USA)
· Unlimited Power
Charity Masuka (Zimbabwe)
· Psycho Cybernetics
Edwin Shumba (Zimbabwe)
· As A Man Thinketh
· Jonathan Livingston Seagull
Graduates
The following student(s) complete one level of study last month:
Charles Kabera (Rwanda)
Level Two
Kennedy John Offor (Nigeria)
Level One
Yieh Odette Gwain (Cameroon)
Level Two
Sunday Elebiju Tope (Nigeria)
Level Two
Collins Odhiambo Aballa (Kenya)
Level Three
Statistics
New Enrollments
10 enrolled in November
101 enrolled in 2010
Book Assessments
32 in November
344 in 2010
Books Shipped
45 in November
564 in 2010
Cost of books
$792.04 November
$8,969.08 in 2010
To Contribute By Credit Card, Click Here
Newsletter Archive: Click Here to view archived issues of the Global Leadership News