Psycho Cybernetics 2000 (Maltz) 337 pages – $10.17
Click Here: http://www.amazon.com
This is an update on the 1960 Maltz classic, Psycho-Cybernetics. Rather than
relying on the Freudian approach of yielding control to the subconscious or on "will power" to change behavior, Psycho-Cybernetics (a computer term referring to the mental "steering system" that guides our attitudes, behavior and self-image) directs the intuitive and nonverbal right brain to "reprogram" the logical and verbal left brain through a six-step program that relies heavily on visualizations and affirmations. The steps are: programming your "success mechanism," imagining success, shedding false beliefs, learning to relax, using "drug-free tranquilizers" and setting goals. Through anecdotes, the authors show how people have improved their self-images and have realized their goals using Maltz's program. Self-quizzes are included. The book is both thoughtful and practical.
Success Through Positive Mental Attitude (W. Stone) 295 pages –
$7.99
Click Here: http://www.amazon.com
PMA stands for "positive mental attitude." This is the foundation that best selling author, Napoleon Hill based his teachings of motivation to millions of people who have transformed their lives for the better. Hill went from living in a log cabin to the life of a millionaire and influence as the author of internationally acclaimed best sellers and adviser to heads of state. This was all made possible by living what he taught.
The New Dynamics Of Winning (Dennis Waitley) 228 pages –
$12.95
Click Here: http://www.amazon.com
Lecturer and former head of the mental training program of the U.S. Olympic Committee's Sports Medicine Council, Waitley here applies his theories for athletic success to business and personal life. In this upbeat, pragmatic guide, he outlines a program for tapping one's inner resources and abilities to achieve "more than you or anyone else thought possible." Citing examples drawn from sport and business, he recommends breaking down major goals into 90-day-long mini-goals, which can also be divided into subgoals. Offering advice on preventive physical and mental health care, he emphasizes such stress-reducing, confidence-building techniques as positive "self talk," short statements of praise and advice for repeating during moments of pressure. He concludes with a 21-day plan for establishing and accomplishing specific personal goals.
Keys To Success (Napoleon Hill) 256 pages – $10.20

Click Here: http://www.amazon.com
Hill's seventeen essential principles of personal achievement are expanded on in detail, with concrete advice on their use and implementation. You will learn the secrets of:
* filling your life with purpose and direction
* perfecting your personality
* fanning your creative spark
* building self-discipline
* profiting from the Golden Rule
* budgeting time and money
* discovering and preserving the source of all wealth
How To Win Friends & Influence People (Dale Carnegie) 288 pages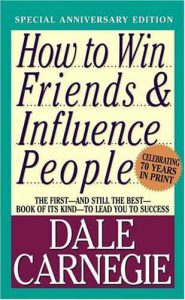 – $11.20
Click Here: http://www.amazon.com
This grandfather of all people-skills books was first published in 1937. It was an overnight hit, eventually selling 15 million copies. How to Win Friends and Influence People is just as useful today as it was when it was first published, because Dale Carnegie had an understanding of human nature that will never be outdated. Financial success, Carnegie believed, is due 15 percent to professional knowledge and 85 percent to "the ability to express ideas, to assume leadership, and to arouse enthusiasm among people." He teaches these skills through underlying principles of dealing with people so that they feel important and appreciated. He also emphasizes fundamental techniques for handling people without making them feel manipulated. Carnegie says you can make someone want to do what you want them to by seeing the situation from the other person's point of view and "arousing in the other person an eager want." You learn how to make people like you, win people over to your way of thinking, and change people without causing offense or arousing resentment. For instance, "let the other person feel that the idea is his or hers," and "talk about your own mistakes before criticizing the other person." Carnegie illustrates his points with anecdotes of historical figures, leaders of the business world, and everyday folks. —
Giant Steps (Anthony Robbins) 416 pages – $9.60

Click Here: http://www.amazon.com
Based on the finest tools, techniques, principles, and strategies offered in Awaken the Giant Within, best-selling author and peak performance consultant Anthony Robbins offers daily inspirations and small actions — exercises — that will compel you to take giant steps forward in the quality of your life. From the simple power of decision-making to the more specific tools that can redefine the quality of your relationships, finances, health, and emotions, Robbins shows you how to get maximum results with a minimum investment of time.
Real Magic – Creating Miracles In Everyday Life (Wayne Dyer)
368 pages $7.99
Click Here: http://www.amazon.com
"Real magic," according to Dyer, has nothing to do with sorcerers or fairy godmothers. It occurs in our daily lives when we let go of negativity and self-limiting beliefs about ourselves and our circumstances and instead pursue "perfect equilibrium of the mind." Urging readers to "realign" themselves with the "invisible world,"Dyer offers concrete suggestions about how to "get to purpose" through service to others and unconditional love, how to become spiritual beings and how to create a "miracle mindset." He also explores ways readers might improve relationships and find prosperity, personal identity and even physical health. Finally, he explains how "real magic" can be plumbed on the global level to alleviate world problems. With anecdotes from his personal life, Dyer illustrates his own "magnificent transformation," testifying that "real magic" has led him to the higher awareness he cheers his readers toward.