Ratherford Mwaruta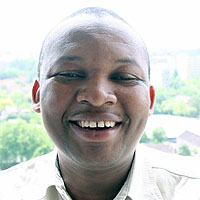 Zimbabwe
I have a passion for community development work ever since my childhood. I have grown to love community development work, it is from those humble beginning that after high school I joined Zimbabwe Workcamps Association (ZWA) as Volunteers and I rose within the ranks to become national projects officer for the organisation. . Working with ZWA as a Project Officer groomed me to be an effective project implementer. I resigned from ZWA in August 2006 in order to pursue my MSc Degree in Leisure, Tourism and Environment at Wageningen University in The Netherlands, i graduated in August 2008.
I am a competent, confident and dynamic person with more than ten years experience working at grassroots level with community based organisation and international nongovernmental organisations. I have participated in designing and implementing intervention programmes for community projects. I can generate and formulate innovations to deal with work challenges, opportunities and initiate change to consolidate the organisation position and a major contributor to the humanitarian situation. I am very creative and take risks in programmatic approaches as well as management process that support a course of action to achieve the organisation goals and vision at all cost. I have well-developed interpersonal and group dynamism skills and can make an excellent team member. My motivation to work has always been in the tasks accomplished and results achieved. I have wide experience in team building, project management, and implementation. My work experience plus my studies both at home and abroad offered me opportunities to grow improve and become a better professional. I have acquired strong analytical skills, reliable, transparent, trustworthy, and accountable at all time.
I have leaded a number of international projects in different parts of the world namely: Kenya, Zambia, Botswana, Democratic Republic of Congo, Mozambique, Zimbabwe and The Netherlands. All the projects were organised by the Coordinating Committee for International Voluntary services. Through these projects I developed very keen research interests in the concept of using international voluntary services as a twin tool or vehicle for community development. I have also some research interests in social development. I cherished in the concept of lifelong learning and I would like to continue pursuing education until the highest level possible. I believe that international voluntary services as a double edged sword, so I will would like to contribute in the knowledge production in this field especially that the field is dominated by researchers from the North. I would like to add the voice from the South. A lot of things have been taken for granted so it is high time the present status quo should be challenged, hence producing new knowledge in the international voluntary praxis.