Nigeria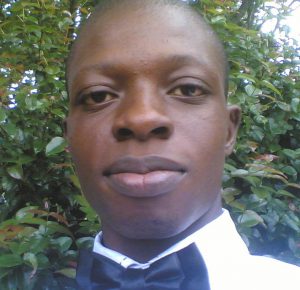 Ibeakuzie Emenike Geofrey
Onitsha, Nigeria
emeibe200@yahoo.com
Birthday: March 4th
Education: Undergraduate
Occupation: Student
Why would you like to participate in this study program?
There are many reasons why I want to participate on the training. First, I want to acquire the knowledge from the activities during the training, the attitude to approach problems of life in order to empower my generation positively and I want to get more experience of life irrespective of my field of specialization.
Please describe your vision of a world that works for everyone.
The world that works for everyone is the world that does not lay blames on the past, we must be willing to accept the blames of our mistakes and seek a better solution. Racism, selfishness and other kinds of attitude that suffer others should not be seen again in this kind of world.
What do you see as the most pressing problems facing the world today?
I could think about certain political figures, I could talk about war, weapons and global warming, but it boils down to how people treat people. That's the problem People have evolved into something selfish, greedy and intolerant. People are misunderstood, because of religion, race, gender, sexual orientation. Racism is a big problem, I think all colors. Whites think that black people are criminals, commit rape and are all in gangs. Black people still blame white people for slavery, which has been over with for a long time. And until they stop blaming this generation it will never stop. Black people think that they still get discriminated on, even though they have just as much as white people Asians, Indians etc. All have a problem with another race. Why can't we all just accept everyone for who they are?
How do you feel these problems could best be solved?
The issuing of free trade can create communication between the black and white people there by reducing racism. The problems of poverty ten years from now as they are today, "By reducing trade barriers, income per capita will grow. The problems of malnutrition, disease control, and Two billion people do not have enough iron in their diets which results in energy sapping anemia and cognitive deficits in children and adults. Lack of iodine stunts both physical and intellectual growths. Expand immunization coverage of children, lowering the price of schooling by increasing girls' schooling, and support for women's reproductive roles. The lowest priority is a proposal to mitigate man made global warming by cutting the emissions of greenhouse gases.
Profile
My name is Ibeakuzie Emenike Geofrey. I am 21 years old born on 4th March 1991, I am sixth child of my parents, my parents had 9 children between the nine children , 3 are girls while 6 are boys, our home is a happy one, I am fair in complexion, four feet tall, black eye, with black hair, my father's name is Ibeakuzie Fidelis Nwonye, my mother's name is Ibeakuzie Susana, she hail from Oba in Idemili south Local Government, Anambra state , Nigeria, I hail from Oba in Idemili South Local Government Area, Anambra State, Nigeria. I am a Christian baptize under the communion with Christ, I repented on 13 May 2011, I worship at Anglican Communion of Nigeria.
I attended my nursery education at Holy trinity nursery school, I attended my primary education at Christ Kin Ideal School were I took my common entrance into secondary school, my secondary education was at Madonna secondary School where I obtain my West Africa Examination Certificate, right now I am undergoing a 5 years course at Anambra State University leading to B.S.C in Engineering.
I engage in a lot of activities like football, reading, travelling and preaching, I travel to some main cities in my own country like lagos, Onitsha and Asaba, I read a lot of books mostly of novel like things fall apart, the cloud of destiny by Chioma, The Holy Sin by Chukwuma, The Regent by S.C Nnadozie, The Holy Bible and so much more, I like football very much, my favorite club is Chelsea, I like to see Mikel Obi play, I am friendly with people around me , I have few friends who hang out with me ,I like social networks like Facebook, space, 2go, and yahoo.
I am focused on my future, to change things around me and my country, to be a better citizen of my country, I like to involve myself in social activities here in my school, I like seminar a lot some I attended are like the Disciple Class etc, I have this ideology if you know it you can beat it, my future career is to be an engineer, so that I will make things happen in my society, I love those who can empower me positively in all human endeavor, that's why I select my friends, I have no girl friend because I think I am not ready for it now, I wish by God grace to be an Evangelist, to work more with God and the Power of his might.
I hate people who are self centered, people who are not focused in life to go for what they want, I hate when people are discriminated in the society, I believe the fact we are created equal to end up on equal, then let no man think other who are not opportune to be well born are slaves, the issue of war, violent and other unlawful act I don't get myself involve in any activities that will affect my life morally, socially and academically.