International Institute For Global Leadership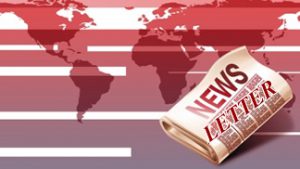 Issue #199 * July 2018
www.global-leadership.com
Asheville, NC USA
Guest Editorial
One Year Later…
Harriet Opondo (Uganda)
opondohattie@gmail.com

It is exactly a year since I left home by faith to pursue a dream that I have been thinking about for awhile. There is so much that I could write about regarding the last twelve months! I am thankful to God for His grace, protection, provision, mercy, and divine connections. I have not had to see a Doctor for the last year or save for a routine physical exam. This is a big deal especially with my struggles with allergy to various things and Texas unpredictable weather especially in the spring.
I anticipated that settling in would be tough; a new culture, new people and being surrounded by people who do not necessarily "look: like me!" Some days have been very difficult, that all I wanted was to run back home. There are people who seem to have had a preconceived idea, how "a girl from Uganda/Africa" should be! I seem not to fit in their boxes, and they tried different ways to be unkind and mean. I am thankful that my self-esteem and worth is not based on what fades away, I am confident in who I am in my faith. I have had to forgive and let go of offenses more times that I can remember!
The Lord promises to provide all our needs according to His riches in glory. I have experienced overwhelming generosity towards me, I am forever thankful. God has moved mountains on my behalf that every time I reflect on I get emotional. My first summer semester, I had 24 hours to pay my tuition balances or else I was going to lose my immigration status. I remember receiving that email and literally becoming numb. However, my faith strengthened me and kept me calm and together!
One of my biggest blessings in Denton is finding a local church. I am thankful that I was led to the Village Church Denton. I have been welcomed and loved in indescribable ways. Pastor Hughes regularly checked on me throughout the summer semester, said hello before he went up to deliver the sermon. This kind gesture reassured my heart in many ways. I have made a few but very special friends, Vanessa, my sister from another mother, she has brought so much sunshine to my life, thankful for an extrovert in my life! I Love you so much! My home group members are one of my strongest support system, I cannot thank them enough.
I have always lived with housemates since I moved out of my house. I am fortunate that I have not had crazy experiences with any of the ladies that I have had the privilege of sharing living spaces with. I am so thankful for Monica, my roommate for the last one year, we have grown in our friendship and love for each other. I wouldn't have asked for a better roommate! I love you! looking forward to our second year together as roommates. I have experienced enormous personal and professional growth in the last one year. My faith has been strengthened, my relationship with ABBA has become more intimate than ever. My confidence as a therapist has grown by leaps and bounds, I am really thankful! I am looking forward to all that lies ahead. Great is your faithfulness!
(Hattie is an IIGL Graduate and Mentor; studying for her Ph.D in Denton, TX)
What Others Are Saying
Linquist Asiebela (Kenya)
linkasieb@yahoo.com
From the time I was enrolled as a student in IIGL my life has changed dramatically. I had ideas on what I wanted in life, but I didn't know how to go about them. I was so much frustrated and distressed that I kept on wishing one day I would wake up to find a miracle has happen that would bring me to my destiny. When I became a student in IIGL, I felt like I had come back on the right truck leading to my destiny. The first books made my focus clearer and imparted the confidence that I needed by working on my mental attitude. I learned not just to believe what my eyes were telling me. All that they see is limitations. Your whole body from the feet to the hair is nothing more than your thought itself.
If there was anyone who needed a high self-esteem due to the nature of his vocation, it was me. This is precisely what the books in level one did for me. I used to feel disillusioned whenever people could oppose or sabotage my efforts to be successful. I had given up many attempts from the word go. But the books empowered me greatly. I realized that every adversity has a seed of equivalent or a greater benefit. My success is not determined by others but by me. Blaming others is futile. I'm the master of my life and I can decide on whatever I want regardless of the circumstances. If you want to play the game of life and win, you've got to play full out. Be willing to feel stupid, and be willing to try things that may not work. Otherwise, how can you innovate, how can you grow, how can you discover who you really are?
I'm a spiritual being in a physical body; therefore I'm not trapped inside a limited body. I can do anything as long as I'm connected to my intent. Intention does not err. The acorn never turns into a pumpkin, or the apple blossom into an orange. Every aspect of nature, without exception, has intention built into it, and as far as we can tell, nothing in nature questions its path of intent. Nature simply progress in harmony from the field of intention. I marvel at myself how much I have changed when I look at the little things that used to trouble me of which now are no longer an issue. As a musician, I have often lost members in my group after I have trained them only for them to leave for greener pastures having acquired the skills they needed. Some time back this could drive me into depression, but now I'm over this. If my season of working with some people is over, I don't have to spend the rest of my life lamenting over their departure. I should bless them and let them pursue their goals because there are even greater potentials that I will gain from those that have not hard exposure or someone to mentor them. A typical sign of maturity is the legacy that you leave, the people that you raise to excel in your field of profession.
This does not mean that IIGL has worked some magic in me and that there are no adversities. Conversely, I can say that opposition has much more increased. All that IIGL has done is to empower me on how to tackle circumstances so that everything works for my own good. This is the best gift I could get. I have learned how to fish by myself but not to borrow. I'm after the provider not the bread. I have been hurt and frustrated by people but it has not changed my determination to get what I want, to the extend that when I embark on doing anything with absolutely no resistance, I ask myself; is everything fine? I have heard so many "No's" but having learned form this books to deploy the ability to persuade, I have ended up successful. The key to success is massive frustration. Anybody who tells you otherwise doesn't know anything about achieving.
(Linquist is an IIGL Graduate)
What Our Students Are Reading
The Holographic Universe By: Michael Talbot $11.98
Now with a new foreword by Lynn McTaggart, author of The Field, Michael Talbot's classic treatise on the latest frontiers of physics reveals a revolutionary theory of reality, explaining the paranormal abilities of the mind, the unsolved riddles of brain and body, and the true nature of the universe. Lyall Watson, author of Supernature calls The Holographic Universe "elegant writing." "Talbot helps to bridge the artificial gap that has opened up between mind and matter, between us and the rest of the cosmos."
Students/Graduates In Action
Welcome to the USA Paa!
Level Six student and former IIGL Board Co-President Paa Kwesi Inkumsah (Ghana) inkumsah@gmail.com is spending this summer at Mountain Light Sanctuary near Asheville, NC! He likes to describe himself as a bundle of positive vibes affecting and inspiring people to find and achieve their purpose in life. He formulates and builds strategy and helps brands breath and thrive. Education opened up his options, but creativity enlarged and expanded his scope. Paa's professional background is in human resource training and development, idea/concept generation, social media marketing, building and marketing brands, negotiations, trade advocacy as well as personal, leadership and entrepreneurship coaching. He is available to guests for life coaching sessions by donation.
Valuable Resources for Personal & Planetary Transformation
Natural News
Naturalnews.com
Natural News is a science-based natural health advocacy organization led by activist-turned-scientist Mike Adams, the Health Ranger. The key mission of Natural News is to empower consumers with factual information about the synthetic chemicals, heavy metals, hormone disruptors and other chemicals found in foods, medicines, personal care products, children's toys and other items. Natural News covers holistic health, nutritional therapies, consciousness and spirituality, perma-culture, organics, animal rights, environmental health, food and super-foods and performance nutrition. The site strongly criticizes drugs-and-surgery medicine, vaccines, corporate corruption, animal testing, the use of humans for medical experiments, the chemical contamination of foods, heavy metals in consumer products, factory farming and government corruption.
News
IIGL Book: Creating Your Path Through Leadership Available on Amazon!
A special thank you to the 2017-2018 IIGL Board of Directors and Graduates that submitted chapters in our first IIGL Book, "Creating Your Path Through Leadership!" The Kindle version is now available on Amazon.com and later in July the paperback version will be available for purchase too! Please go to Amazon.com for more details. In specific, we want to acknowledge IIGL Board Member and Contributor Kathleen Oweegon (USA/NM), Oweegon@bridgesofpeace.com who gave countless hours of her time and expertise formatting the books!
Meet Our New Students
We had 1 new student this month
Obioha Ebere Mary-Jane (Nigeria)
I am a young lady with the zeal and energy to make impact in my generation. With a background in Chemistry and working under a food manufacturing company has helped equipped me with knowledge concerning research and development and also seeking for continuous improvement. I enjoy meeting close friends to discuss deep issues and meeting new friends to expand my worldview. Nothing brings me more joy than being able to connect, identify and empathize with someone. Yet, spending too much time with people drains me as well and I need times of solitude to refresh me again. During these moments I ponder about life, I ask hard questions about myself, read good inspirational books and spend time in quiet meditation. I am one with varied interests, a generalist who thrives on the new and exciting. One persistent interest of mine is preventive and natural healthcare. I believe in the power of nature to heal. Medicinal plants have properties that can heal various ailments. Stroking a cat is known to sooth your nerves. Nothing revitalizes the body more than a run in a park. My recent fascination is in massaging pressure points of the hands and head to relieve headaches. Also I enjoy body massage because I see it as a way of relaxing body nerves. I aspire to make a difference in peoples' lives.
To view complete profiles, Click Here
Visionary Leadership
Student Progress
We had 12 students from 3 countries complete a total of 14 books in June. These students were from Lesotho, Nepal and Nigeria.
Mantsebeng Suzan Maepe (Lesotho)
* The Law of Attraction
Pema Rinji Sherpa (Nepal)
* Awaken the Giant Within
Tony Adeyemi (Nigeria)
* Success through a Positive Mental Attitude
Onyema Augusta (Nigeria)
* Keys to Success
Fasoranti Damilola (Nigeria)
* Giant Steps
Ahua Bem Gura (Nigeria)
* The Law of Attraction
Obioha Ebere Mary Jane (Nigeria)
* As a Man Thinketh
* Jonathan Livingston Seagull
Ocheja Linus Lawrence (Nigeria)
* A Long Walk to Freedom
Fawolu Lilian (Nigeria)
* How to Win Friends and Influence People
Ude Nkechika Perpetua (Nigeria)
* Giant Steps
Ukwandu Ogechi Perpetua (Nigeria)
* Keys to Success
* PsychoCybernetics
Ajeigbe Aremu Jimi Rexford (Nigeria)
* Goals
Graduates
Adeosun Oluwatosin Isaac (Nigeria) completed Level Three
Ude Nkechika Perpetua (Nigeria) completed Level One
Statistics
New Enrollments
6 enrolled in June
24 enrolled in 2018
Book Assessments
14 in June
63 in 2018
Books Shipped
20 in June
39 in 2018
Cost of Books
$424.66 in June
$805.47 in 2018
You Make It Possible
We extend a special thanks to the following individuals and/or organizations who contributed to IIGL last month. Your ongoing support makes this work possible.
Deb Silver (Israel)
Lynne Murguia (USA/AZ)
John Hornecker (USA/NC)
Michael Lightweaver (USA/NC)
Judith Royer (USA/SC)
David Banner (USA/WI)
Deb Rosen (USA/WI)
Patrice Zorn (USA/WI)
Make A Difference
Dream Team 22
Please join Dream Team 22 as our goal is to have 220 people contributing $22 per month. We understand that money is energy and that to sustain and build IIGL we need a lot of people pouring their energy into this endeavor on a regular basis. We also know that not everyone can afford to commit $22 a month – especially our students, who live in countries with economies in which this amount can be equal to a weeks' salary. So we are offering two options for those who wish to become a part of the Dream Team. One can commit to a $22 a month contribution or to spending 22 seconds each day holding the vision of IIGL becoming financially sustainable by the end of 2016.
Will you join the Dream Team and help us create an energetic foundation to support the transformational work of IIGL? You can really make a difference in the world by making a modest contribution of time or money. To make the $22 a month commitment or a one time donation, click the link below. To become a member of the Dream Team 22 by committing 22 second a day to help us hold the vision, contact Deb for details: drosen2@wi.rr.com
Checks on US banks, payable to the International Institute For Global Leadership, can be mailed to IIGL, 11537 N. Lake Shore Drive, Mequon, WI 53092 USA. Contributions may also be made by credit card by clicking the link below. Contributions are tax deductible under the 501 (c) 3 tax code of the United States Internal Revenue Service.
To Contribute By Paypal, go to www.paypal.com and make donation to iigl.globalleadership@gmail.com
To Contribute By Credit Card, Click Here