International Institute For Global Leadership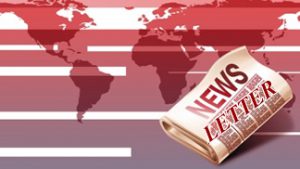 Issue #188* August 2017
www.global-leadership.com
Asheville, NC. USA
Guest Editorial
Thank you to our IIGL Students
Deb Rosen (USA/WI)
Drosen2@wi.rr.com
It's that time of year when I evaluate student progress over the past 9-12 months. As I do this, I reflect on the talent and diversity of the IIGL students. Currently we have 100 plus students from all continents except for Antarctica. Although I am grateful for many long term IIGL contributors and mentors, it's the students who bring IIGL to life. I want
to share more about our student body. We have students from 23+ countries, mostly in Africa, and the largest concentration is in Nigeria. Although we do have many students who are in their 20's, the age range is from 18 to 59. We have students who are in college; we have trained nurses, lawyers, engineers and teachers. We also have many pastors, entrepreneurs and business owners. Our students often have their own
families and/or are caring for other family members. We have one student who has travelled the world in the last year, visiting a total of 60 countries! We also have students who stop and start their studies, which is completely acceptable based on the IIGL philosophy of self-paced learning. One of the unique parts of IIGL is that students are able to stop and start their studies as needed, so that is different than many university guidelines or even other online programs. This uniqueness is very helpful because many of our students do have busy lives, and we have also learned they don't always have a connection to the internet. So, hopefully, all the students will have an effortless connection to the internet in the coming years, but that has been a bothersome obstacle in the past few years. So, if you're one of the students who hasn't been able to consistently complete the assessments, all you have to do to reinstate yourself is to complete one assessment or one exercise if you're in Level Three. I really do encourage you to do that in the future and also to consider, if you do have to stop for awhile, to let me know. You can send me an email and let me know your situation. This year, I also started reaching out to more students who have chosen to stop and find out what the reasons are, so even if you have had to stop your studies, don't be surprised if you receive an email from me inquiring how you are doing!
So what do all our students and other IIGL family members have in common? We have the same vision for the world and many of the same values related to peace-building and leadership. I've always looked at IIGL as one big family, and that continues and our family continues to grow too as there have been a couple of new IIGL babies born this year. Congratulations to the IIGL students who continue to study and share their learnings with us and those in their local communities! We are making a difference in the world each day one book at a time! I am grateful for all I learn from our IIGL students on a daily basis!
What Others Are Saying
Judith Royer (USA/SC)
judejoy@aol.com
I have been involved as an IIGL donor, board member and student mentor for many years. This has allowed me to witness many transformations in the students who have participated. They become positive, motivated adults who strive to improve the lives of people in their communities. I continue to be inspired by the changes I observe and the projects that the students undertake.
What Our Students Are Reading
The Outliers By: Malcolm Gladwell $9.65
In this stunning new book, Malcolm Gladwell takes us on an intellectual journey through the world of "Outliers" the best and the brightest, the most famous and the most successful. He asks the question: what makes high-achievers different? His answer is that we pay too much attention to what successful people are like, and too little attention to where they are from: that is, their culture, their family, their generation, and the idiosyncratic experiences of their upbringing. Along the way he explains the secrets of software billionaires, what it takes to be a great soccer player, why Asians are good at math, and what made the Beatles the greatest rock band.
Students In Action
ICLDNG announces New Partnership
IIGL President and Graduate, and ICLDNG CEO Felix Iziomoh (Nigeria), flelixi@gmail.com recently shared, "we're excited to announce that the International Centre for Leadership Development Nigeria (ICLDNG) has become an official partner of Stop. Think Connect: the global online safety awareness and education campaign. ICLDNG joins hundreds of organizations around the world in support of a safer, more secure and more trusted internet. Securing the internet is a responsibility we all share. As a partner, ICLDNG will help create a culture of online safety, cybersecurity and privacy awareness at work and in the community.
Follow these tips to better protect yourself, your information and the larger digital community:
• Lock Down Your Login: Fortify your online accounts by enabling the strongest authentication tools available, such as biometrics, security keys or a unique one-time code through an app on your mobile device. Your usernames and passwords are not enough to protect key accounts like email, banking and social media.
• Keep a Clean Machine: Keep all software on internet-connected devices – including PCs, smart phones and tablets – up to date to reduce risk of infection from malware.
• Personal Information is Like Money. Value It. Protect It.: Information about you, such as purchase history or location, has value – just like money. Be thoughtful about who gets that information and how it's collected by apps and websites.
• When in Doubt, Throw it Out: Cybercriminals often use links to try to steal your personal information. Even if you know the source, if something looks suspicious, delete it.
• Share With Care: Think before posting about yourself and others online. Consider what a post reveals, who might see it and how it could be perceived now and in the future.
• Own Your Online Presence: Set the privacy and security settings on websites to your comfort level for information sharing. It's OK to limit how and with whom you share information.
For more online safety tips, visit https://stopthinkconnect.org and follow Stop. Think.
Connect on Facebook and Twitter.
Valuable Resources for Personal & Planetary Transformation
Association Montessori International (AMI)
Ami-global.org
The Association Montessori International (AMI) mission is to support the natural development of the human being from birth to maturity, enabling children to become the transforming elements of society, leading to a harmonious and peaceful world. AMI is the custodian of the history of the Montessori movement maintaining the Montessori legacy. AMI is recognized internationally as an authoritative voice regarding the unique nature of childhood, natural human development and the rights of the child. AMI is identified and sought after nationally and internationally as the custodian and cultivator of Montessori philosophy and pedagogy. AMI is invited to assist international and national humanitarian and government authorities in addressing social and educational problem situations where positive change can be effected through the education of children.
News
Attention IIGL Students!
Every August IIGL reviews the student records to see who has remained an active student by submitting an assessment or assignment (Level Three) in the past 9 months. Please contact Deb Rosen, drosen2@wi.rr.com if you need books and/or are wondering if you are considered an active student. For any provisional students, who have enrolled in IIGL in 2017 but haven't submitted introductory assessments, yet plan to become an active student, email Deb for options!
WANTED: Level One and Two Used Books
One of the ideas that came from the recent meeting in Nigeria is for IIGL students to share their Level One and Two hard copy books especially in Nigeria because it costs so much for shipping even within the same country. They have started this in Uganda all ready. If you are willing to share your books in either of these countries, please contact Felix Iziomoh (Nigeria), flelixi@gmail.com and Noeline Kirabo (Uganda) ( noelinekirabo@yahoo.com) so they can keep your name on a list for future reference and also know your location. In Nigeria, Felix is also in the process of setting up State Coordinators who have volunteered to help transport the books! A special thank you to Board Member Aloys Hakizimana (Rwanda) for being the first one to donate Level One and Two books to Uganda!
Meet Our New Students
We had 4 new students this month.
Onyema Chiemeka Augusta (Nigeria)
I am eighteen years old and I attended Nigeria Navy Primary School. Also, Haklat college at Alemu Ijanikin Lagos State. I am from IMO state but precisely, I live in Lagos with my family. We are a family of six and I am the third born of my family. I graduated from secondary school last year and presently I am an O-level student and I will soon be in the university studying nursing science, this year by his grace. Back then in secondary school, I was the social prefect of my school and the acting band captain of my primary school. It wasn't an easy responsibility but I was able to pull through by his grace. I love singing and reading motivational books a lot. My dreams in life are to be a Nurse, a motivational speaker, and a musician like Celine Dion. Because that is the area I find myself happy and fulfilled. Listening to music is a habit that I am used too and sometimes my mom does complain that I do that often.
Attah Isaac Chekwube (Nigeria)
I am the first child in a family of five. I had my primary and secondary school education at Ziks avenue primary school and College of Immaculate Conception (CIC) respectively, both situated in Enugu, Enugu state. I had my tertiary education at the prestigious university of Nigeria, Nsukka, where I studied Zoology (majored in Parasitology). I hail from Akuma, Ibagwa-Ani, Nsukka local government area, Enugu. I am a logical, dependable, and humorous young man that prioritizes healthy and progressive relationship.
Fawolu Lilian Doyinsola (Nigeria)
I am from a family of three; my mother, me and my junior sister. I am from a Christian home and I a very devoted to the lordship of Jesus Christ. I am not from a rich home and it was so hard to go to school, but than God for his faithfulness that changes the story around. I am interested in meeting new people, knowing new things and being challenge. I am a farmer. Right now am working Springboard entrepreneurship and development initiative as a program coordinator. I was initiated by Springboard to be a potential farmer and right now I have the dream to take farming as a caregiver where I can be of great help to my country and provide solution for people that take farming as a business.
Anamebom Bright Oluwakayode (Nigeria)
In my journey through my first degree in the university I have realized the pursuing in a career in the health sector. This has made me to go in for Biochemistry in my undergraduate days due to the constraint I have in being admitted into Medicine and surgery. Since I have been in the biochemistry field, I have always been interested in the health related aspects (Clinical Biochemistry, Xenobiotics, and Immunochemistry etc). All this has built my interest in doing a research using the children of 0-5 years of age checking on their lipid profiles as related to the infection of Plasmodium Falciparum.
I have been a biology and chemistry teacher as well. Immediately I finished from the university, between the July 22, 2012 and December 3, 2014. I have been able to health educate my students in some relevant areas especially the teenagers; Reproductive health, Nutrition, Metabolism; where I made them to understand how life came into existence and how to manage the sexually transmitted diseases.
To view complete profiles, Click Here
Visionary Leadership
Student Progress
We had 16 students from 6 countries complete a total of 26 books in July. These students were from Cameroon, Kenya, Liberia, Nigeria, Rwanda and Uganda.
Yieh Odette Gwain (Cameroon)
* Inner Peace for Busy Women
Vivian Muciri (Kenya)
* Rookie Smarts
James Trotman (Liberia)
* The Seven Habits of Highly Successful People
Onyema Augusta (Nigeria)
* As a Man Thinketh
* Jonathan Livingston Seagull
Okoye Chinedu Callistus (Nigeria)
* Giant Steps
* Real Magic
* The New Dyamics of Winning
Attah Isaac Chekwube (Nigeria)
* As a Man Thinketh
* Jonathan Livingston Seagull
Fawolu Lilian Doyinsola (Nigeria)
* As a Man Thinketh
* Jonathan Livingston Seagull
Aishatu Ibrahim (Nigeria)
* The Abundance Book
Adeosun Oluwatosin Isaac (Nigeria)
* Leadership for Dummies
Anamebom Bright Oluwakayode (Nigeria)
* As a Man Thinketh
* Jonathan Livingston Seagull
Ifeanyi Enoch Onuoha (Nigeria)
* Real Magic
* The New Dynamics of Winning
Ndefo Chikanso Patricia
* Real Magic
Ajeigbe Aremu Jimi Rexford (Nigeria)
* How to Friends and Influence People in the Digital Age
* Success through a Positive Mental Attitude
Aloys Hakizimana (Rwanda)
* A Long Walk to Freedom
* The Autobiography of Martin Luther King Jr.
Hakizimana Tuyishime Roger (Rwanda)
* Unlimited Power
Juliette Engole (Uganda)
* Outliers
Anita Kiddu Muhanguzi (Uganda)
* Keys to Success
Graduates
Okoye Chinedu Callistus (Nigeria) completed Level One
Aloys Hakizimana (Rwanda) completed Level Four
Hakizimana Tuyishime Roger (Rwanda) completed Level Two
Statistics
New Enrollments
4 enrolled in July
34 enrolled in 2017
Book Assessments
26 in July
116 in 2017
Books Shipped
22 in July
84 in 2017
Cost of Books
$427.18 in July
$1,614.53 in 2017
You Make It Possible
We extend a special thanks to the following individuals and/or organizations who contributed to IIGL last month. Your ongoing support makes this work possible.
Deb Silver (Israel)
Lynne Murguia (USA/AZ)
Naomi Stauber (USA/AZ)
Corine Wilson (USA/FL)
John Hornecker (USA/NC)
Michael Lightweaver (USA/NC)
Janis Thayer (USA/NC)
David Banner (USA/WI)
Deb Rosen (USA/WI)
Patrice Zorn (USA/WI)
Make A Difference
Dream Team 22
Please join Dream Team 22 as our goal is to have 220 people contributing $22 per month. We understand that money is energy and that to sustain and build IIGL we need a lot of people pouring their energy into this endeavor on a regular basis. We also know that not everyone can afford to commit $22 a month – especially our students, who live in countries with economies in which this amount can be equal to a weeks' salary. So we are offering two options for those who wish to become a part of the Dream Team. One can commit to a $22 a month contribution or to spending 22 seconds each day holding the vision of IIGL becoming financially sustainable by the end of 2016.
Will you join the Dream Team and help us create an energetic foundation to support the transformational work of IIGL? You can really make a difference in the world by making a modest contribution of time or money. To make the $22 a month commitment or a one time donation, click the link below. To become a member of the Dream Team 22 by committing 22 second a day to help us hold the vision, contact Deb for details: drosen2@wi.rr.com
Checks on US banks, payable to the International Institute For Global Leadership, can be mailed to IIGL, 11537 N. Lake Shore Drive, Mequon, WI 53092 USA. Contributions may also be made by credit card by clicking the link below. Contributions are tax deductible under the 501 (c) 3 tax code of the United States Internal Revenue Service.
To Contribute By Paypal, go to www.paypal.com and make donation to iigl.globalleadership@gmail.com
To Contribute By Credit Card, Click Here
Read Previous Newsletters in our Newsletter Archives