Nigeria
Rev. Joseph Okoye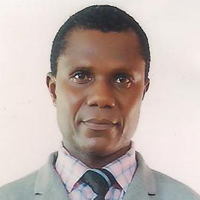 Email: okoyejoseph@ymail.com
Birthday: October 22nd, 1965
Education: diploma in theology, diploma in sociology, certificate in project management, B.Th,B.div,certified extra value professional, advance diploma in church leadership etc.
Occupation: Pastoring
Please describe your vision of a world that works for everyone.
Through out history in human race had leaders, infamous person that have become imbued with mythic levels of notoriety, revrence and hatred from despotic tyrants who have enslaved, massacred millions to pacifist icons who have inspired millions to peace and positive co-existence. Leadership position has been the bone of contention from ages till date. People always desire for good leader but many times they see the opposite. I believe that the world that can work for every one must be a world that can have
(a) Effective/good leaders that can render good governance
(b) I would want to see a world that their leaders are doers/and not only ceremonial as many of the leaders thought. i believe that leadership is all about responsibility.
(c) I would want to see a world that their leaders can render justice and equity, a world that their leaders are not corrupt but always transparent and fairness in their dealing with the people.
I would want to see a world that their leaders are good listeners, humble and not arrogance and inconsistent. i believe that the world that favour every one is the one that their leaders can actively work to enact changes and to put their ideas and stratagems into a logical frame works to make sure that things work well for the benefit of every one. finally, i would want a world that the leaders are working together with the followers as so that they can establish a common goal for the betterment of everyone.
What do you see as the most pressing problems facing the world today?
The most pressing problem the world is facing today are as follows: (1) peace-: threat to the world peace is causing instability to the educational, health, food scarcity and all the sectors of the economy especially in the third world countries.
the global security environment has changed significantly new conflict contexts have create new sources of threat to international community. increasing violence against humanity, including more kidnappings that attacks and such is having serious implications for the peace process like Sudan, the middle east, and even some communities in my country Nigeria. Terrorism is another powerful threat to the peace process like in Iraq, Afghanistan, Israel and palistan etc. (2) poverty -:especially in the third world countries as the saying say that a hungry man will always be an angry man. i know very well that the root cause of many ethnic an community crisis are being perpetrated by the angry youth whom poverty has changed their mentality. at this modern age, one will not believe that more than 65% of Nigerians are still living in abject poverty, like wise some the African countries.
(3) national disaster-: like earth quake, it also affect food production like Sunami. i think the leaders of every nations has to make provision against such occurrence and also putting some measures that can prevent such menance. (4) corruption:- permit me to say that corruption is more deadly than virus. virus eats gradually but corruption eat and kill instantly. that is why Africans are still undeveloped because their leaders has eaten all their wealth and many are still eating and has become cabals that no one can vote them out of the sit but as a man of God, i believe that one day they must go out of the sit either by voting or by death.
How do you feel these problems could best be solved?
for there to be global peace, people should see them selves as one. no form of discrimination should be encouraged. there should be equity and justice for there to be global peace. people should be given opportunity to express them self through democracy. the developed countries should assist the third world countries through grants to finance education, health care and infrastructural development. the government of various countries should take a common stand against terrorism. no country should be a safe corner for terrorism to thrive. there should be dis-emphasize on nuclear armament by countries that spend a significant portion of their budgets on this. this money should be spent on other human development activities
Profile
I am Rev Joseph Ikechukwu Okoye, was born into the family of Okoye on 22/10/1965. I am the only surviving son of my mother, Late Mrs Josephine Okoye. I hail from umuru eziowere in idemmiri north local government, Anambra State,Nigeria. Married to Mrs Roseline Okoye and today we are proud parents of of a boy Dennis by name.
My academic status has been stated above. Membership organization: Association of Evangelical Gospel Assembly (AEGA USA), True world international ministries USA, Revival international network association (Africa), Extra value certified professional (full membership)
Previous work organization: Amjestine pharmaceutical limited = marketing manager, Blue cross limited = deputy general manager, Skied limited = purchasing manager. And also I have worked with many marketing companies before I quite for the service in Gods vineyard as a full time pastor.
Leadership experience: one of the unique and outstanding qualities I love to exhibit is my love for peace, truth and transparent dealings with people I come in contact with. In view of this, people always like me to lead them. In fact, I believe this writing may not be the right place to express them. Not withstanding, I learn discipline from my early years as a leader and my learning every day is to be self control. also I learn that people you are leading will certainly take advantage of you, but one thing I always have in mind is that I must serve God and humanity and to see peoples life improve and to maximize their potential.
My vision/dream: I believe what I have learned is nothing to compare with what am yet to learn. A saying says (so you have been playing according to the old rules? is it not about time you change? Is it not about time you know how? I really want to learn more about leadership, so that I will know how to play according to the new rule. The holy book said in proverb 19:21 'many are the plains in a man heart but it is the lords purpose that will prevail'. I believe I have many works to do for the betterment for humanity and for the glory of God. i owe the society so much that is why I believe the training I will receive through this leadership programme will certainly help me to actualize my vision.