Mali/USA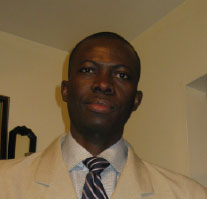 Modibo Dembele
Maryland, USA
Email: vdembele@yahoo.fr or mdembele@gwu.edu
Education: Bachelor's in Law and an MBA
Occupation: Law Enforcement Officer
What do you see as the most pressing problems facing the world today?
This is a tricky question. I will try any way to give you my opinion. To me, poverty, racism, global warming, and the religion's related issues are the most pressing concerns facing the world. All those above have the same side effects: they all increase INTOLERANCE IN SOME WAY OR ANOTHER!!!
How do you feel these problems could best be solved?
Due to the fact that, poverty is the issue number one on my ranking, I think that suggesting anything else will be a waste of time, as scholarly stated by this maxim: "empty stomach has no ears". Another well known maxim states: "One known problem is half solved". Therefore, here the task is easier. In the light of those statements, the hierarchy of needs (Physiological Needs, Safety Needs, Needs of Love, Affection and Belongingness, Needs for Esteem, Needs for Self-Actualization) suggested by Abraham Maslow answers to my first concern, the poverty. Everybody should have an opportunity to fulfill the physiological needs prior to anything else. Then, will follow the need to acquire knowledge or education in order to be able to tame the nature. This one wake up all the senses of the body, but its outcome has to be used "efficiently and effectively" in order to prevent any mismanagement.
Profile
My name is M. Modibo Dembele. I 'am living in US since 2004. I graduated in 1997 with a Bachelor's in law from the National College of Administration of Bamako in Mali. From 1997 till my arrival in USA in 2004, I taught law, French, ethics, history as well Geography to several Malian private and public schools; all while I was holding a full time job at the City Hall of the District of Bamako as a Legal Advisor to the Mayor. Moreover, I got chance to work as a Social Worker, Freelance journalist.
In May 2008, I graduated with an MBA from the University of District of Columbia, USA. For the upcoming fall, I 'am planning to attend The George Washington University Law School LLM program in Comparative and International Law. I worked as a Law Enforcement Personnel in The George Washington University Police Department.
In terms of extracurricular activities , I presided over Malian Immigrants Association in the Washington, DC, Maryland and Virginia areas. As of now, I am the President of an upcoming NGO called " DEME-USA. Inc" and a member of the not-for profit organization World Citizens Coalition for Children and the Malian Young Lawyer Convention. I also gained multi-tasking skills. To this point, much of what I have learned about governance issues has come through my hands-on experiences. Being a Legal Advisor to the Mayor in a developing country gave me an opportunity to do some comparative study on governance issues, especially corruption and bureaucracy. I tried to influence political practices in my immediate environment through hard work and transparency. I got stuck on numerous barriers; resistance to change was a major one. That was one of the most challenging moments of my lifetime, and taught me a lesson that I will never ever forget… On the other hand, I also realized that my ability to motivate others could lead to significant political achievements.
As hobbies, I like reading, writing poems, travelling and excursions. I played soccer and practice martials arts ( Taekwondo and Aikido) and I'am a CPR trained. Moreover, I like listening to music as well as dancing and I belief in Universal Peace.
Click Here to read My Book Assessments
Books Completed:
As A Man Thinketh
Jonathan Livingston Seagull
Keys to Success
Success Through A Positive Mental Attitude
Psycho-Cybernetics 2000
How To Win Friends & Influence People
Giant Steps
The New Dynamics of Winners
Real Magic
The 7 Habits of Highly Effective People/ Powerful Lessons in Personal Change
The Law of Attraction
Nonviolent Communication