International Institute For Global Leadership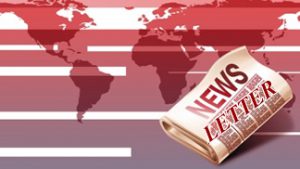 Issue #230 *February 2021
www.global-leadership.com
Asheville, NC USA
Guest Editorial
Why you Should Try Again after the First Decline
Noeline Kirabo (Uganda)
Noelinekirabo@gmail.com
Too many people give up after the first decline or failed attempt. They take "No" for an answer and embrace it as a final verdict. The truth is there is always a window of opportunity beyond the first decline.
Yesterday I was having a conversation with someone who had given up on an opportunity they claim to want so bad. The idea of wanting something so bad and giving up on it does not seem to rhyme in my world. I believe in chasing after the things that you truly care about.
The questions you need to ask yourself are:
How badly do I want this?
What am I willing to sacrifice for it?
I am yet to meet or read about a highly successful person who has never failed or been rejected for an opportunity in their lives. Failure and rejection are indicators that you need to build mastery and try again. When you are turned down, take the time to find out why in case the other party is willing to give you that feedback. This will enable you to know how to prepare better for a stronger comeback. You have nothing to lose when you ask for feedback but everything to gain. It is painful enough to be rejected and yet that feedback is all you might need to close your next deal. Swallow your pride and ask for feedback even in the most painful of situations. When you purpose to become better, start by learning to ask for feedback.
If you don't know why you failed the first time, chances are you will fail again.
Every decline/ rejection offers you a learning opportunity that equips you to become better at your next application so don't close the door behind you simply because you were declined but rather keep it open for the next appointment.
I have had the privilege of sitting on different application review committees. I must admit, there is something beautiful about a person who applies for the second or even third time. That simple act affirms that you are resilient, committed, self-driven, ambitious, focused, committed, and possibly passionate about whatever they are applying for.
It affirms that they truly want this opportunity and are committed to continued learning. When I see a person who is applying again, my heart goes out for them in some way because I know it takes courage to set foot again in a place where you have been turned down.
I have applied for many things in my life and it is only a few that I have gotten through on my first application. Some have taken two or three applications for me to be successful. There is an opportunity where I applied five times in a row each time they advertised the offer. This has conditioned my mind to never take 'NO' for a final answer. I have learned to stop and ask if there is anything I could have done better.
So before you quit on that opportunity because you did not qualify the first time, stop and evaluate how badly you want that offer and what you are willing to sacrifice for it. Once you ascertain that you truly want it, strategize to give it a second and third chance or simply choose to keep trying till you get it. Persistence and consistency can wear out resilience in some cases but more importantly, it builds your resilience.
So before you walk away, dare to try again.
(Noeline is an IIGL Graduate; National Coordinator for Uganda and a Past IIGL President!)
What Others Are Saying
Ethelbert Obinna Umeh (Nigeria)
Ethelumeh2011@gmail.com
I feel so delighted sharing this story anytime, any day. Becoming part of International Institute for Global Leadership (IIGL) is one of the best things that has happened to my professional development experience. Truly, words are insufficient to express my experience; it is better imagined than described. IIGL is a world to experience, a world to discover, a world to explore.
I became a student of IIGL in 2013, and graduated in 2016, and had been so amazing serving on the Board of Directors since 2016.
Today, IIGL has produced 33 graduates from 11 countries, with over 110 active students from about 24 countries. Many of our students and graduates are working in different areas including agriculture, healthcare, sustainable community development, youth empowerment, leadership development to mention but a few.
It has been a journey classified with amazing experiences; I have also met many interesting people whose thoughts and actions have enhanced my leadership capacity. Becoming part of IIGL is an experience i would wish anyone reading this to have.
For those looking for opportunities to hone their leadership acumen, International Institute for Global Leadership is a reliable place to be. I have never ceased any opportunity to introduce this leadership platform to my friends, mentees, and well-wishers. It has been a blessing to be part of this global family.
(Ethelbert is an IIGL Graduate and the Current Board President).
What are Students are Reading
Reinvention (Ebook)
Brian Tracy
As personal success expert Brian Tracy teaches that every one of us is engineered for success. But until you deal with the dissatisfactions of the present, you'll be unable move onward and upward to create the wonderful future that is not only possible; it's what you deserve. In Reinvention, he reveals how, with the right focus, anyone can remake himself or herself and put an end to the chronic stress, unhappiness, and dissatisfaction in career and life. This transformative book helps readers reach this ultimate goal through a series of interactive exercises that show them how to: take control of their careers; turn unexpected shakeups and turbulence into positive occasions for growth; dramatically improve their earning ability; develop the self-confidence to take the kind of risks that lead to rapid advancement; decide on and get the job they really want; set clear goals for their lives; write resumes that get results; determine their own salary range; and more. We live in a time of rapid change but also of unprecedented opportunity. If you knew you couldn't fail, what is the greatest thing you would dare to dream? Reinvention supplies readers with a proven system to turn their greatest dreams into reality.
Students/Graduates In Action
Springboard starts 2021 with New Projects!
Springboard founded by IIGL Graduate Afere Lawrence (Nigeria) Lawrence@Springboardnig.com recently shared that work resumed in earnest at the Springboard Plantain Chips unit! The Springboard community is also harvesting cocoa in January! It promises to be a prosperous year for the entire Springboard people and farmers! Please contact Lawrence directly with inquiries! Happy 2021 to the Springboard community!
Valuable Resources for Personal & Planetary Transformation
DailyOM
Dailyom.org
DailyOM features a universal approach to holistic living for the mind, body, and spirit and supports people who want to live a conscious lifestyle. DailyOM was founded in 2004 by Madisyn Taylor and Scott Blum, and was born out of their desire to bring the world together by offering messages of consciousness and awareness to people of all walks of life.
News
2021 Annual Meeting Date Set
The Board of Directors announced that the 2021 IIGL Annual Meeting will be held on May 22nd! All Active Students, Graduates and Financial Contributors are invited to attend via teleconference. We will share more details on how to participate in a few months.
Wanted: New IIGL Student Enrollments!
Help us recruit new IIGL students by referring them to apply on the IIGL website or email Deb Rosen at IIGL.Globalleadership@gmail.com! If you would like a copy of this poster; email Deb as well!
IIGL Book Sales Continue…
The IIGL Board of Directors shared that the IIGL book, "Creating Your Path Through Leadership" book sales continue to provide a Royalty payment to IIGL each month. It has also helped new potential donors understand more about IIGL! The book is available both on Kindle and in Paperback on Amazon.com! Check it out! Here's the link: https://www.amazon.com/s/ref=dp_byline_sr_book_1…
Meet Our New Students
Oghogho-Omoruyi Amadinaiyangbon (Nigeria)
Reading has been a source of insight to a very large number of great men and women of the society who have lead good lives and replicated that in the lives of others in the same society where we find ourselves, hence my total submission and acceptance to the cliche dogma, "Readers are leaders." In one familiarizing himself or herself with the details of who I am, one will get to understand that I am somewhat introverted and less gregarious as so many will easily find out on meeting me in person. I am a very good table tennis player, very receptive of both female and male friendship. As an aspiring academic, I am so much into all that deals with an academic institution setting and also in pursuance of my vision. I am presently undergoing a degree program in Guidance and Counseling, in the faculty of Education, University of Benin (UNIBEN), Benin City, Edo state. I am somewhat apolitical; owing to the very corrupt practices of the Nigerian government, but I am gradually reintegrating myself into the system, as I know that I only can make a change by participating in it and posing a change agent in all ramifications.
Maduka Princess Ifunanya (Nigeria)
I am married to Kenneth Duke Ajuma, I'm from Bende Local Government Area of Abia State, a state in the Eastern part of Nigeria. I am the first child of 6 children with my mum being my only surviving parent who made sure that I go through school at all cost seeing that I love academics. I am a graduate of Banking and Finance from the University of Calabar, Calabar Nigeria where I served as the Secretary of the Student Union Government in my final year and came out with a second class lower division grade. I am also a graduate of Air Ticketing and Reservation from The Universal School of Aviation, Lagos and also an A1 German Certificate holder from Goethe Institute, Lagos. I am currently an entrepreneur who works on fashion accessories and also building a farm alongside my husband that will grant job opportunities to the youths in my state and country at large. I am an academician who believes that learning never ends and is open to learning new things everyday of my life.
To view complete profiles, Click Here
Visionary Leadership
Student Progress
We had 9 students from 6 countries complete a total of 11 books in January. These students were from Ghana, India, Liberia, Nigeria, Rwanda and Uganda.
Ernestina Kabukour Kateye (Ghana)
* Keys to Success
Mayowa Racheal Popoola (India)
* PsychoCybernetics
James Trotman (Liberia)
* Goal Mapping
Oghogho-Omoruyi Amadinaiyangbon (Nigeria)
* As a Man Thinketh
* Jonathan Livingston Seagull
Maduka Princess Ifunanya (Nigeria)
* As a Man Thinketh
* Jonathan Livingston Seagull
Michael Kelechi (Nigeria)
* Maximum Achievement
Ndefo Chikanso Patricia (Nigeria)
* The Seven Habits of Highly Effective People
Nkaka Victor (Rwanda)
* How to Win Friends and Influence People
Anita Kiddu Muhanguzi (Uganda)
* The Autobiography of Martin Luther King Jr.
Graduates
The following Student completed a new level of study this month
Michael Kelechi (Nigeria) completed Level One
Statistics
New Enrollments
14 enrolled in January
14 enrolled in 2021
Book Assessments
11 in January
11 in 2021
Books Shipped
0 in January
0 in 2021
Cost of Books
$0 in January
$0 in 2021
You Make It Possible
We extend a special thanks to the following individuals and/or organizations who contributed to IIGL last month. Your ongoing support makes this work possible.
Deb Silver (Israel)
Wanda Gail Campbell & Mike Tilley (USA/AL)
Lynne Murguia (USA/AZ)
John Hornecker (USA/NC)
Michael Lightweaver (USA/NC)
Judith Royer (USA/SC)
Deb Rosen (USA/WI)
Patrice Zorn (USA/WI)
Make A Difference
Dream Team 22
Please join Dream Team 22 as our goal is to have 22 people contributing $22 per month. We understand that money is energy and that to sustain and build IIGL we need a lot of people pouring their energy into this endeavor on a regular basis. We also know that not everyone can afford to commit $22 a month – especially our students, who live in countries with economies in which this amount can be equal to a weeks' salary. So we are offering two options for those who wish to become a part of the Dream Team. One can commit to a $22 a month contribution or to spending 22 seconds each day holding the vision of IIGL becoming financially sustainable by the end of 2021!
Please join the Dream Team and help us create an energetic foundation to support the transformational work of IIGL! You can really make a difference in the world by making a modest contribution of time or money. To make the $22 a month commitment or a one time donation, click the link below. To become a member of the Dream Team 22 by committing 22 second a day to help us hold the vision, contact Deb for details: drosen2@wi.rr.com
Checks on US banks, payable to the International Institute For Global Leadership, can be mailed to IIGL, 11537 N. Lake Shore Drive, Mequon, WI 53092 USA. Contributions may also be made by credit card by clicking the link below. Contributions are tax deductible under the 501 (c) 3 tax code of the United States Internal Revenue Service.
To Contribute By Paypal, go to www.paypal.com and make donation to iigl.globalleadership@gmail.com
To Contribute By Credit Card, go to global-leadership.com