Kenya
Eddie Ombagi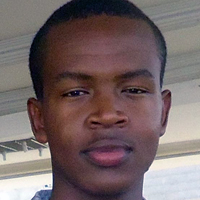 Email: ombagimatwere@rocketmail.com
Website: www.facebook.com/eddieombagi or www.eddieprince.blogspot.com
Birthday: 02/24/1989
Education: Bachelor's Degree
Occupation: Intern, World Youth Alliance
Please describe your vision of a world that works for everyone.
I envision a world where everyone lives in harmony, where there will be no killer diseases or manmade fatalities, where preservation of life would be sacred to all, where upholding a person's dignity and right is assured, where there will be no wars or conflicts, no hunger or starvation and no suffering. I envision a world where each and every one of us would attain his or her highest potential, where good leadership and governance rules the world, where democracy and the rule of law are the order of the day, where accountability and transparency is practiced. I envision a world of love, of kindness, of humility, of God!
What do you see as the most pressing problems facing the world today?
Lack of inspirational leadership is the most pressing problem. There are numerous challenges in the world: poverty, pandemic diseases and ailments, wars and conflicts, ignorance etc. But all these stem from a lack of visionary leaderships that sees ahead of its time. If we fix our leadership, by getting people empowered, by giving the basic tools of survival: knowledge, then they would be able to make informed choices on leaders. With good leaders comes good policies, good governance and public management. In Africa, the challenges that are evident can be eliminated rightly with a pool of leaders who are competent enough to drive change. The myriad of challenges cannot be solved with only a leader, No, but having an inspiring leader will definitely jolt the rest of the continent to action.
How do you feel these problems could best be solved?
Simple. There is a quote that says that bad leaders are chosen by good people who refuse to vote. When we all take part in our civic duty to vote, and do so in an informed and knowledgeable standpoint, then we would have played our part in building the universe. If we narrow down to Africa, evil triumphs when good people do nothing. Corruption, diseases and malgovernance is a result of poor leadership perpetuated by citizens who refuse to do their God given right to elect responsible and accountable leaders. With good education and informed minds, citizens can wisely elect leaders who are willing to sacrifice for the continent. Those who are ready to die so that the generations to come and live. The leaders who will easily carry our burdens not for themselves or enrich their cronies, but become servant leaders for Mother Africa.
Profile
My name is Eddie Ombagi, a 22 year old graduate of Language and Literature from Moi University, Kenya.
I consider myself a politician of conscience. I suffer at heart when I see Africa in the deep miseries it is in. I lament inwardly when I see Africa being ravaged by drought and famine, consumed by wars and conflicts and led by leaders who do not understand the essence of being African. Yet amid all this, Africa is a land of plenty, with beautiful people proud of our being African, our sensuality and emotion, our song and dance, our gaiety and spring of step, our resilience, our laughter that springs from the heart, our ability to love and capacity to learn, the beauty of the negress and swagger of the negro, the spirit of ubuntu, the fountain of humanity, the ideals of pan africanism.
I dream to be part of the New Africa, to lead the African Renaissance. To offer hope to our people, to ensure that we reclaim our spot in the global arena.
I am an African Union youth volunteer therefore I have travelled quite a bit and this has informed my political ideals and beliefs. What I have learnt in my sojourn is that Africa is one, our experiences are singular, our dreams and aspirations are united. If we harness our power as Africans, then we can move mountains.
I read quite a lot. In fact I have a small library. I read biographies like 'Unbowed' by Wangari Maathai, 'Long Walk to Freedom' by Nelson Mandela. I read political books like 'The Machiavellian Moment', '48 Laws of Power' by Robert Greene and 'The Art of War.' I read self help books like 'The Alchemist', 'The Secret Life of Bees' and 'The Monk Who Sold My Ferrari' to name but a few.
I am a leader. I have been a leader in my brief life. I will be a leader till I die.
I have written several papers on youth empowerment and education which I have presented in conferences and workshops. I have organized seminars in my university on university student leadership. The seminars were meant to orient student leaders on leadership skills and orientations. I run a youth organization that creates awareness to the young people on HIV/AIDS, teenage pregnancies, risky sexual behaviors and behavior change education. In the university I founded a group called Student in Community Organization (SiCO). We engage the community around the university on best environmental practices and civic participation. Among the student population, we organize regular public lectures where we invite respected leaders in different fields to speak to us. We also hold HIV/AIDS awareness events and Voluntary Counseling and Testing (VCT) sessions in school. We partner with Walter Reed Project (WRP) to offer the services. I am a member of the World Youth Alliance where I do advocacy work on Human Rights and Dignity. I am a fellow with the African Union Youth Program where I do volunteering work on matters of youth empowerment and advocacy. I am an Ambassador with the Millennium Candle Campaign (MCC) where we advocate for the attainment of the MDGs. I am a writer and blogger. I write poems and short stories that have been entered in several competitions.
I am in the world for a purpose; I am trying so hard to know what it is.