Uganda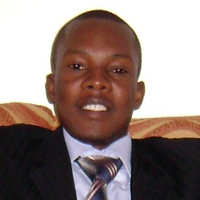 David Rogers Kintu
Email: davidkintu@yahoo.com
Education: Postgraduate
Occupation: Teacher (Headteacher)
Please describe your vision of a world that works for everyone.
I highly believe that if everyone cared enough, everyone would have enough. My vision of a world that works for everyone is one where everyone is responsible enough. Every setback is brought about by irresponsibility on someone else's part and can be avoided. Secondly a world where everyone gets to know that their destiny is in their hands and that they can change their world by changing their way of thinking.
What do you see as the most pressing problems facing the world today?
Poverty; Poverty is the mother of most of the problems facing the world. And the biggest problem with that is that most people can come out of poverty if they changed their way of thinking. Having said that, poverty brings about desparacy which causes things like wars, insurgencies, diseases like HIV/AIDS. Domestic violence, street children and any type of negligence of children and child sacrifice which is now rampant in our country. All this and more is caused by poverty.
Selfishness; I still believe if everyone cared enough, everyone would have enough, but the selfish tendencies especially by the leaders cant allow that to happen. The common adages that "do onto others what you would want them to do to you" no longer works, That's why the rich get richer and the poor get poorer. This escalates the problem of corruption, which is the biggest problem in my country and Africa as a whole. And to make it worse many avoidable things happen including death. For example people die because someone misused the money for drugs for one's personal gains.
How do you feel these problems could best be solved?
We must gloom the young generation to overcome poverty. First train the mind on how to overcome this cancer of poverty, when people are still young they should be taught how to make money, save and invest it. These are simple basics of overcoming poverty but people grow up not applying them. Secondly the young people should be brought up with a sense of empathy. Have concern for one another, so that when they become leaders in future they don't only look at personal gains but service to the people, so that our people can have the basic services of their life and indeed corruption will be a thing of the past. It all starts with training the child both in the home and in the school.
Profile
My name is David Rogers Kintu, was born in the eastern part of Uganda the first born in a family of three boys James, Yona and I and two half sisters; Martha and Diana. We grew up most of the time with our mother after she broke up with my father who later passed on in 1999. I got married to Mariam in may 2006, God blessed us with a son Jeremy two and a half years old and a daughter 6months old. My life was characterized by hardships including partially dropping out of school, but later resumed and graduated with a Bachelors of Science with Education, and later did a Post Graduate diploma in Computer Science. I immediately started working at my present work place and I have been promoted from a classroom teacher of Mathematics and Physics to the level of Deputy Headteacher in Charge of Administration to now Headteacher of the same institution.
When I became Headteacher in 2007 at 33, many anticipated that I would fail because I was young for such a big post, but I have managed to steer the institution averaging 800 students per year. I have enjoyed my work because it gives me chance to inspire young people make a better future for themselves. Iam greatly motivated by the fact that the youth are the future of every community or nation, what you see being done and is unpleasing can only be undone by grooming the young people to do better.
As a parent I have also learned that parents have a great role in shaping the future, most of all our presence in the home and the values we pass on to the children are to have far reaching effects to the society.As a teacher I have seen that youth who often struggle in school both socially and academically always have a trace of a missing parent. My dream therefore is to see stable families with Godly love and care and hence responsible youth and indeed a better nation, because the youth are the future of a nation.
My personal interests are to work on youth projects, I have learnt to use my position as Headteacher to startup some, currently am running a parallel curriculum on Behaviour Change(Behavivour Change Program-BCP) this focuses on issues which are not taught in school. I also have great interest in sports, I greatly excelled in sports in my student days.
I like reading life skills books and inspirational books, I have not traveled much though, iam born again and I pray from a Pentecostal church.