Second Prize
A Letter to My Grandpa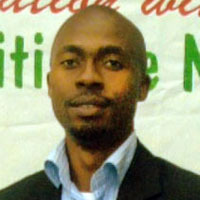 Afere Lawrence (Nigeria)
Dear Grandpa,
Today, October 1, 2041, is the 81st Independence Anniversary of our dear country, Nigeria. This day also makes it 42 years since you departed this earth to the unseen world. I am highly elated today for many reasons. Firstly, I want to share with you some significant transformations that have occurred in Nigeria over the last 3 decades. Secondly, I will also explain to you the level of growth and development I have experienced in my personal life. Lastly, I want to deeply appreciate you for teaching me how to grow into a conscious, positive, and successful man. Your love for me and your concern for a new Nigeria, which was deep-rooted in your heart, were genuine. I look throughout my entire lifetime with a deep sense of appreciation and awe at all that you have been for me.
As Nigeria celebrates her 81st Independence Anniversary on this extremely peaceful day, there is joy, happiness, and excitement showing in the faces of Nigerians. This year's anniversary celebration is quite distinct and marked in an unusual way. Unlike before, when it was only the government that celebrated it, Nigerians, (Yoruba, Ibo, Hausa, Muslims, Christian, children, men, women) came out en masse to rejoice.  With hearts of gratitude, we rejoice as a people for the new dimension of great joy, prosperity and wellbeing that we now enjoy. In the speech of our President in an early hour broadcast today, the president was so quick to add, "Nigeria gives thanks to the leaders who have occupied government positions in the last 30 years, who, in spite of the immensity of our national problems, committed much effort and boldness towards developing a nation with public order, security, peace, significant economic and social progress and prosperity that the country enjoys today. They have made for us a nation to be proud of. Nigeria will live to remember their vision, hard work, sincerity, doggedness, determination and faith committed towards the reality of the new Nigeria. It is needless to say that it is on the foundation of their leadership and vision that my administration and many to come shall continue to build upon…"
By now, I know you are eager to hear the good news I have to share with you about the new Nigeria. Many years ago I eavesdropped on you talking to my father at a family dinner where both of you were discussing the state of the nation. "We cannot afford to forget that public order, economic and social progress, and prosperity are not the natural order of things, that they depend on ceaseless efforts and attention from an honest and effective government that the people must legitimately elect. This can only happen by credible elections." I am happy to inform you that this is the situation in Nigeria today. At the Nigeria general elections in 2015, Nigerians did what they had never done before. They summoned new courage and boldness and took their destiny in their own hands by taking adequate charge of the voting processes. For the first time in the history of the country, we recorded 100% credible elections which gave us the opportunity to elect credible and visionary candidates who occupied all public positions in the Federal, State and Local Governments. Ever since that year, voters' votes continue to count and honest voting and credible elections continue to hold in the country. This is really awesome!
Some years ago, I attended an international conference called "From Third World To First, The Nigerian Story" and one of the speakers made mention of the steps that instigated credible elections in the country and how Nigerians took their stand. He explained that a few years before 2015, many Civil Society Organizations, also known as Non-Governmental Organizations, in Nigeria formed a mastermind alliance to embark on a massive campaign called "Your Vote, Your Future." They took the campaign everywhere in the country – secondary schools, higher education institutions, homes, churches, mosques, streets, everywhere. This group of NGOs/CSOs was unwilling or unable to rest until they had spread their idea nation-wide. The focus of the campaign was to encourage Nigerians to use their votes to transform the country by electing credible leaders. Though it was not easy, the campaign was successful. Its impact was obvious at the 2015 general elections. I know you are very excited to hear this.
Grandpa, you will agree with me that we succeeded in electing credible and visionary leaders into public positions, strong leaders who understand the immense problems of the country, who envision new solutions, who take the initiative to act on that vision, who provide the energy and sustained focus to overcome the inevitable resistance, and who – year after year- keep introducing new policies and programs that will make the country, not just survive, but prevail by excelling. It was then easy for Nigeria to be on a path of socio-economic progress.
At this juncture, it will interest you to know about the sectors and areas in which our credible leaders have made giant strides.  Most important to Nigerians is the education of every Nigerian. In the new Nigeria, education means liberation of the soul, spirit and mind of every individual. I can remember hearing you say more than once, "The aim of education should be to develop the capacities and talents latent in human beings, and to coordinate their expression for the enrichment and progress of society. Genuine education must not only instill information and skills and prepare individuals for jobs; it must also empower us to use our minds creatively, to find and follow our passions and create a deeper understanding of how and why our long-term wellbeing depends on the wellbeing of others." I am so excited to inform you, Grandpa, that this kind of education is being provided in Nigerian schools today. Our schools' curricula, from primary to tertiary schools, now include spiritual development, heart-centered leadership development, entrepreneurship development which are all germane to the total development of every Nigerian. Our schools are now citadels of learning, a place where genuine leaders and entrepreneurs are groomed. A few weeks ago, the Nigerian Government received a United Nations Education Excellence Award. It will also interest you to hear that Nigerian schools now attract millions of International students every year. Also, more attention is now given to Technical and Vocational Education and Training which has been instituted to provide skilled manpower in applied science, engineering technology and commerce. In 2016, the government began to build highly equipped TVET schools in every Local Government Area in the country. It will also excite you to hear that 100% of our children are enrolled into schools and have their education planned and financed. Withholding a child from getting a complete education is a punishable criminal offence in Nigeria.  This is greatly wonderful as Nigeria's education is now at par with the international standard. Grandpa, I can sense that excitement rushing into your body system as you read these unbelievable improvements.
Let me be so quick as to mention to you the vast and mind-boggling technological breakthrough Nigeria has achieved in the last three decades. January 1, 2020, headlines of every International and national newspaper boldly reported: "Made In Nigeria Automobiles Hit Market." In the world today, Nigerian engineers are considered the best in the production of automobiles, aircrafts, and ICT gadgets. Importation of technology products is a thing of the past in the country. Our telecommunication system is highly effective, efficient and greatly competitive. Funny enough, there are no cheap and substandard Made-In-China phones in our market any more. Each time I relay the story of the Made-In-China products to my children, they wonder how backward we were in those times in comparison with the Made-In-Nigeria products that are presently available in our market. Also, our manufacturing sector has become private sector driven. Our heart-centered leaders keep accelerating efforts to provide the enabling environment that will enhance the operating efficiency, productivity and profitability of the sector. I am deeply thrilled with these developments. And I know that many more technological breakthroughs will still happen because the government continues to make enormous investment in Research and Development in the country.
You may question at this moment, what has become of Power Generation in the country? Joyfully, I want to announce to you that the acute problem in the supply of electricity in the country has become a problem of the past. The Nigeria Power sector is now able to effectively deliver sustainable, adequate, qualitative, reliable and affordable power in a deregulated market. Our electricity supply is private sector-led with government providing an appropriate legal and regular environment for capital investment. I sense you are in high spirits to hear this, Grandpa. To increase your happiness, on Wednesday, July 17, 2041, Nigeria celebrated 23 years of uninterrupted power supply in every part of the country. This is exceedingly amazing, you will agree with me!
Our transportation system has also undergone a gigantic transformation in the last three decades. You will remember that until the early 2000s, there was heavy dependence on road transportation for haulage of products – raw materials, processed and finished – from place to place. Also, you will recall that our major roads were death traps for the people using them. News about accidents was always aired. I'm happy to inform you that the story has changed today. The country now has an integrated and sustainable transport system that is safe, reliable and cost efficient. Our rail, sea and road networks are located strategically across the country. Also, every state in Nigeria now has a local and international airport. Today, I do not need to travel long distances in my car. I can go by Electric Rail or Air to any state in the country. Last Christmas, I traveled by Electric Rail with my wife and children to Obudu Ranch Resort (the best and most visited tourist centre in Africa) in Cross Rivers, Nigeria. The journey took us 2 hours compared to 8 hours by road. This is lovely and enjoyable! Goods and products can now move faster from place to place in Nigeria because of the transformation in our transportation system.
It is not news to you that for many years in Nigeria the major challenges of our health care sector were myriad. They included poor quality of service delivery, ill motivated human resource base, inadequacy of material resources, very high patient to doctor ratio and lack of basic health infrastructure. All these were responsible for the abysmal health indices in the country at that time. Today, I am grateful that the story has changed. We now take pride in our quality health care sector with hi-tech infrastructure and materials, highly motivated and quality doctors. Just a few weeks ago, I listened with wonder to the Minister of Health give the development in our health sector on the television. He stated, "Ten state-of-the-art Community Health Centers in each Local Government in the country, reduction in under-5 malnutrition from 53% to less than 5%, free medical service to children from ages 0 to 5, increased life expectancy of Nigerians from 47 years to 80 years, reduction in HIV/AIDS prevalence from 4.4% to 0.2%, and creation of effective national Health management Information system to be used as monitoring and evaluation and for informed decision-making at all levels." I believe, just like all Nigerians, that you are excited about these huge improvements in the health sector.
Few days ago, I asked Oluwadarasimi, one of my sons, to clean my library and take stock of the books I bought during my trip to Libya last week, where I delivered a paper on one of my Projects, The Youth Farm, which has impacted the lives of millions of young Africans. At the end of his chore, he brought to me an article titled "Worsening Youth Unemployment in Nigeria" published by THE PUNCH on Tuesday, July 26, 2011. I was really thrilled to see this article at this moment (30 years later) and note how Nigeria has actually transformed. In the article, the Central Bank of Nigeria alerted the nation to the perils of joblessness among its youth, putting the rate of youth unemployment in the country at 41.6 per cent. I recall how badly I used to lament to you and my daddy about how many of my friends were jobless and blaming the government for not providing jobs for us. You would often tell my friends and I to take responsibility for our lives and not leave our destiny in the hands of the government. You once said, "Don't ask what Nigeria can do for you but what you can do for Nigeria," paraphrasing John F. Kennedy. I will be eternally grateful to you for challenging us with this statement, even though at that moment we would wonder why you would tell us to take responsibility for ourselves when we had government and parents.
Today, youth unemployment has become a thing of the past. A recent report from Nigeria Labour Agency (NLA) notes that 73.5% of Nigerian youth are self employed. This is astonishing! Nigerian youth have learnt to discover their hidden talents and skills and have converted them to profitable businesses. A lot of Nigerian youth are in the ICT, Agriculture and manufacturing sectors. They are really the brains behind the ICT and manufacturing breakthrough in the country. Many thanks to our schools which keep instilling entrepreneurial skills in our youth. Today, Nigeria boosts of many indigenous world-class businesses that stick to global best practice and ethics. Also, we have multinational companies nurtured locally and flying the Nigerian flag across the earth. These businesses have created enormous job opportunities too. When I remember the past struggle for employment in the country, millions of graduates without jobs for many years, I feel a great joy that all these new things are happening in my lifetime! I often tell my children that their generation is quite lucky. You will agree with me on this.
Believably, Nigeria has become exceptionally peaceful. The threats that manifested in the form of regional agitations, as well as ethno-religious tensions are now challenges of the past as Nigerians have become highly tolerant of each other. If I may remember well enough, between 2013 and 2015, the Nigerian Government made an impressive transformation in the Nigerian Police through deliberate and sustained implementation of extensive reform and training. The Nigerian Police and Army, who are well-trained, now discharge their duties with integrity and responsibility. Also, between these years, Civil Society Organizations (CSOs) in the country embarked on an intensive national campaign for peace. Interestingly, they involved faith-based organizations in this process. They also went further to recruit and train Peace Corps responsible for peace keeping in every community. Let me also add, Nigeria now enjoys a constitutionally independent judicial system that ensures respect for the rule of law and promotes equal rights to justice. Beyond all, I believe that the abundant peace we enjoy is because Nigerians have become more tolerant, loving, caring and have imbibed the brotherhood spirit. Sometimes in 2020, I wrote a personal letter to the headquarters of the CSOs in the country appreciating them for their impactful roles in transforming the country. I must not forget to inform you, in 2018 the National Assembly and Federal House of Representatives passed a bill that made it compulsory for every Nigerian to learn how to speak and write Ibo, Hausa and Yoruba, the three major languages in the country. I am really grateful for this bill. It has helped to strengthen our unity. Nigerians now understand themselves better because they speak the same languages. It is now that I understand that what separated us – Yoruba, Ibo and Hausa – was not our different cultures but our languages. That gap has been bridged now. Speaking and understanding the same languages has made us one and stronger as a people!
Another major update I have for you Grandpa, is about the improvement in our agriculture sector, which is now very dear to the Nigerian economy. We have really developed our potential in this sector. A remarkable report from the Central Bank of Nigeria stated that agriculture contributed over 50% to our Gross Domestic Products (GDP) in 2040. This is really exciting to me and many Nigerians. National dependence on oil for revenues has drastically reduced. It will amaze you to hear that countless Nigerians now practice agriculture as a business. Also, many thanks to Nigerian engineers who have innovated affordable machines and equipment to improve our farmers' work. Grandpa, if you remember, Nigeria used to incur billions of dollars on the importation of rice. Those times are gone! Nigeria is one of the largest suppliers of food to the world. Agriculture has made a great deal of impact on our economy. In terms of job creation, agriculture has done more than enough for the country.
The Nigerian economy has however, developed massively. The tremendous improvement in our governance, infrastructure, education, agriculture, technology, manufacturing, power, and transportation made this possible. In 2020, Nigeria became one of the world's top 20 economies. Also in 2035, the Statistician-General of the Federation and Chief Executive of the National Bureau of Statistics reported that Nigeria was one of the world's top 5 economies. In addition, The World Agency for Development reported recently that "more than 80 million Nigerians rose out of acute poverty in the last 20 years." It is not necessary to say that Nigeria no longer carries the "Third World" label.
Grandpa, as I write to you this moment, I remember that day, many years ago, when you spent several hours studying the Nigerian Constitution with me and Uncle Tunde. And you gave special attention to Section 16, Sub-Section (1) (a) that reads "The State shall …harness the resources of the nation and promote national prosperity, and self-reliant economy; and (b); …control the national economy in such a manner as to secure the maximum welfare, freedom and happiness of every citizen on the basis of social justice and equality of status and opportunity…" This is the reality of the New Nigeria, Grandpa. Peace, freedom, prosperity, justice, unity and credible government are now the true reality in the New Nigeria. We have truly risen from the bottom to the top. And I know that the future is even brighter for us and our country.
Before I end my letter, it will be good enough to let you know what has happened in my life. I know you will be glad to hear this. I am a highly successful entrepreneur. Through my noble and gigantic entrepreneurial activities, I have become a source of inspiration and motivation for millions of young Africans. I run a mechanized farm covering thousands of hectares of land where we plant all kinds of crops, raise rare animals and produce palm oil. I have, on the farmland, a state-of-the-art Entrepreneurship Academy where young people are trained to become professional entrepreneurs. Also on the farmland, I have a 5,000-seat capacity International conference hall built as your memorial. Working with me on these projects are over 10,000 determined people who enjoy what they are doing. I live happily on the farmland with my beautiful wife and 4 bright children. One of my sons talks calmly and convincingly like you. Some days ago at the family dinner, I humorously referred to him as my "Grandpa". I have told them so much about you, so they are familiar with you. Besides, I keep sharing with them those principles of successful living that you shared with me. Do you still remember the photograph we (you, my daddy and mummy and siblings) snapped on Christmas day, 2009? I still have it. In fact, I have placed it in a big frame and hang it in my living room. Each time I see this photograph, I remember those highly cherished moments that you spent with me. And I want to, once more, use this opportunity to say a big thank you for those times you poured wisdom into me. They have helped me to become a highly successful and honorable man.
Grandpa, I could go on and on with this letter to you, but you know precisely how I feel about the new country we have and how I have grown to become highly successful. I wish you were alive to witness all these. But I am more grateful that you believed in the future of this Nation and you encouraged many of us to do the same.
I miss and love you, Grandpa.