Nigeria
Peter Ndarake Udo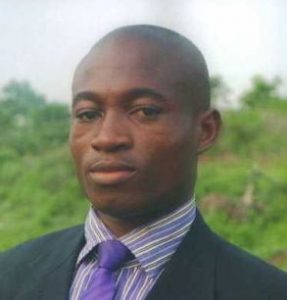 Abuja, Nigeria
Email: peterndarake@yahoo.com
Birthday: 06/ 26/ 1979
Education: Diploma in Computer Engineering
Occupation: Civil servant
Please describe your vision of a world that works for everyone.
My vision of a world that works for everyone is the same vision of Karl Marx, whose best form of government is the one where everyone works and earn according to the effort he/she puts in; where there is no form of oppression or intimidation or alienation. A world where no one forces anyone to do anything- an Egalitarian society.
What do you see as the most pressing problems facing the world today?
The world today is faced with the problem of bad leadership which has resulted to severe hunger in most part of terrorism financing, the other major problem that the world today is facing is that oi poverty and starvation. Today in most of the third world countries, we have seen as states presidents diverts public funds to personal use thereby preventing the people from the needed dividend of a good leadership. The problem has also degenerated into a situation where the world have seen presidents using states funds to finance terrorism; building of nuclear weapon to intimidate other less powerful Nations. We are also seeing a world were bigger nations are stealing from smaller ones either through peacekeeping missions.
How do you feel these problems could best be solved?
The world would be a better place if leaders see themselves as messengers sent by God and elected by the people (even those that stole the power) to emancipate the oppressed and free the captives in their societies; and also by training many people in the techniques of leadership so that there will be able to lead the people in a more humane and Godly manner. The case of African Leaders scooping the little available resources and converting same to personal assets in your can be drastically reduced if many Africans are trained in your Institute in the science of leadership and find their way to the position of authorities their different countries. These would help make the world a better place to live, since bad leadership is a major problem which has helped international terrorist financing.
Profile
My name is Peter Ndarake Udoh as earlier stated. I am 32 years old, about 5ft5″ tall, I have chocolate complexion. I am currently weighing 62kg. I am the first of six children born by a very humble poor mother whose maiden name was Mrs Akon-anwan Asuquo to a building contractor. My dad was very frequent in the church until he bought a black and white television, I guess during the 1985 nations cup, before he began to backslide as a result of the nations cup tournament. He was a very humorous person. My mom, first among three, no education but very interested in the education of her kids. I grew up to understand that i was the most loved, even with the fact that I happen to be the eldest son. I attended Charles' Walker Nursery school before I was transferred to Bishop King Memorial Primary School, number 9 Inyang street Calabar, before we got a new accommodation and I was again transferred to another school,. this time, St. Mary Primary School, number 6, st. Mary street Calabar. In September 1991, i was transferred to my village school in my State- Akwa Ibom state to school as a result scarcity of schools then in Calabar. I started my secondary school in 1991, and graduated in 1997. I left the village for Calabar again to where I started a new life as a young applicant going round the town looking for what to do. I got a place where I worked till i moved to my current location- the federal capital, Abuja. Few months latter, I was employed by the University of Abuja where i serve under the Intelligence section of the security department. I have been appointed as supervisor on several occasions and assistance supervisor also several times and they say its because they believe that i have the capacity to manage people, especially at my own little level.
I happen to be interested in politics just because I believe that the way things are done here is not that we can not do it well, but its just that the right people are not there with the determination to serve but always wanted to be served by the same people that voted them into the positions for service. This is the only way to be able to have the resources that I will use to better the lots of the needy especially in my country Nigeria, now that I have an understanding that I'm here for a purpose. The situation is so bad here that even the bad pictures that the world is made to see is still a far cry from the real situation of things here. According to word of Marriah Edelman, doing good is the rent we pay for living on this planet; King Solomon in the bible also tells us that he who helps the needy is saving for bad times, that God will never forget such people. If I close my eyes and watch as the injustice is going on, then it would be better for me to be born somewhere else where things are done properly. Afterall Martin Luther King jnr. was a man like myself, je dedicated his life to the service of his people in America and died for the cause he loved most. Today, if one is talking about American and its last presidential election without mentioning Martin Luther, then the discussion is not complete.