Nigeria
Name: Ozulu Chisom EdnaOzulu.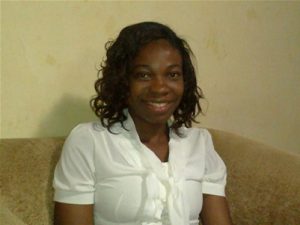 Country: Nigeria
Email: zulusomy@yahoo.com
Birthday: December 8
Education: Bsc.
Occupation: Nursing
Please describe your vision of a world that works for everyone.
A world that works for everyone is such that everyone will be empowered to express their abilities uninhibited, where everyone respects each other's differences and celebrates the strengths in one another.
What do you see as the most pressing problems facing the world today?
Terrorism, bad leadership and poverty. Terrorism is top on my list because through this devilish act a lot of precious lives have been wasted without warning. People are killed without impunity as if they are cows or roasted like chickens for political or religious reasons. Secondly, many countries in the world today are being led by bad leaders who consider what they can gain and not what the people they are leading can gain. Lastly is poverty. The poor cannot get the basic needs of life because they cannot afford it.
How do you feel these problems could best be solved?
People who are the brains behind terrorism, I mean the top echelons, should be traced and caught. This is to be able to deal with this problem from its roots. The mindset of the terrorists needs to be changed in such way that they will value human lives and know that no one else have the power to kill except God. Leaders should be thoroughly screened before they come into office and lastly, the poor should be equipped with a profitable means of livelihood.
Profile
My name is Ozulu Chisom Edna. I am a Nigerian from Achi in Oji River Local Government Area of Enugu State. I am a graduate of Nursing Sciences from the University Of Nigeria, Enugu Campus. I am the second child and the first girl out of five children. I am a beautiful lady with a chocolate complexion, about 5ft 6 inches tall, a bit shy, reserved and very emotional in that I can be driven to tears or laughter without much ado. I am married to Ozulu Emeka. I studied Nursing because I have the passion to improve the health of humans. I love reading and writing, though I need to work on my writing skills. I love teaching too whenever I have the opportunity. I also love sports and have participated in football, judo, discus and Javelin competitions.
My dream in life is to establish my own hospital which will be far outstanding and will meet the health needs of the masses at an affordable price, and therefore, I plan to further my studies in the health field. I also enjoy public speaking and also plan to equip myself so as to impact my world through communication. I have traveled to some states in my country though I have not left the shores of my country. I enjoy reading motivational books. I also enjoy reading stories. My favorite books are The Confident Woman and Battle Field of the Mind by Joyce Meyer. Akeela and the Spelling Bee is one movie I can watch again and again. I have not really participated in any special studies or project, but would really like to do so. I was involved in some leadership positions in my undergraduate Campus fellowship; I was once a Librarian and Literary Leader in the fellowship.
Finally, I love to impact people by helping people bring out the potentials in them through teaching them, especially when it has to do with something I know so much about. I find pleasure in counseling people and so I might take a course in Guidance and Counseling to become a professional counselor.
One thing I lack is entrepreneurial skills and I really do hope to get them. Sometimes, the best of things I have done came along because someone had pushed me to do so. I most times have a steaming passion to start something but my passion wanes after a while and then I would the leave the task unfinished. However, whenever I finish a task, it is always fabulous. I don't fancy failure but they don't get me despondent because each time I fail I love proving that I am not a failure by trying again and again, therefore, I am not scared of failure. I can be very critical probably because I grew up in an environment where people and their actions are highly criticized, and because such critics get no far I am trying hard, so hard to be objective if I must criticize though it hasn't been easy. I love God more than any other being or thing on earth and really enjoy serving Him and following His directions. I love my husband, who always stands by me and would like to see my dreams come true.