Nigeria
Olukunle Abayomi Abolade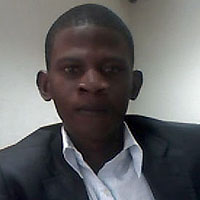 Email: ab2sure@gmail.com
Birthday: 24th- September
Education: BSc.(Finalist)
Occupation: Student
Please describe your vision of a world that works for everyone.
Affecting Humanity in all I do.
What do you see as the most pressing problems facing the world today?
Attitude development.
How do you feel these problems could best be solved?
Teaching and motivating people
Profile
Olukunle Abayomi Abolade is Christian. I am a Nigerian. Final year student of Business Information System (Middlesex University London Campus). I am interested in Information Technology and governmental leadership. 10 Laws of Leadership (By Sam Adeyemi) ,Who moved my cheese(Spencer Johnson) are my favorite books. I have got enough leadership skills in schools, church and work. I have OND mechanical engineering, CCNA, SCP, ACCP, BSc. in view. I will love to be connected to lead at any level.My dream is to affect the world using the gift of leadership God has bestowed on me.