Nigeria
Name: Oguche Ajifa Anastasia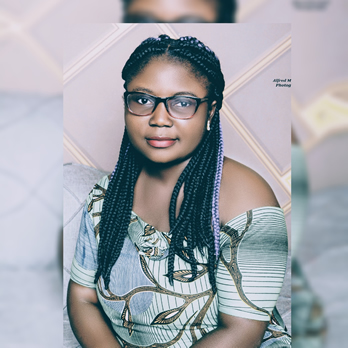 Country: Nigeria
Email: pricelessanni@gmail.com
Date of Birth: August 29, 1989
Education: B.Sc Psychology
Occupation: Teacher
Please describe your vision of a world that works for everyone.
To offer helping hands, guidance and counseling to people of all works of life. To create awareness of lifestyle that leads to peace to oneself and others
What do you see as the most pressing problems facing the world today?
Greed that arises from self accumulation of riches that arises from making money by all means without the thought of humanity love in mind. Love of power, tribalism, religion and territorial behavior.
How do you feel these problems could best be solved?
Through the practical display of love in all facet of life, teaching of the need to live a life of contentment from basic level in our education system. sponsoring and creation of leadership center in all district and local
Profile
My name is Anastasia Ajifa Oguche. I am 31 years old and I am the fifth child from a family of ten. I graduated with a B.Sc in Psychology from Benue State University; Makurdi. I am married with two children and I am an Entrepreneur. Growing up in a family of ten; five boys and five girls was not easy for us having lost my father when I was a teenager. Being the fifth child sent to the village to leave with my grandpa was not easy for me, but I got to learn a lot and returned to my family to be a support even as the fifth child to my mother.
I had passion to study Psychology and was happy when I received the admission, because I struggle with self esteem and I wanted to know more about how I can help myself and knowing more my self.
I am into interior decoration and also tailoring as a business and I also make myself available to do free volunteer work by participating in both non-governmental and church clinical reach out activities. I am a religious person, believing in the saving grace of God.
I want to be a part of IIGL to have an impactful career and to be able to develop leadership ability that will enable me offer psychological counseling to teens, youth and adults.
Click Here to Read My Book Assessments
Books Completed
As a Man Thinketh
Jonathan Livingston Seagull
Keys to Success
Psychocybernetics
Success through a Positive Mental Attitude
How to Win Friends and Influence People
Awaken the Giant Within
Creating your Path Through Leadership
Maximum Achievement
Goal Mapping
The Seven Habits of Highly Effective People
Goals
Leadership for Dummies
Nonviolent Communication
The Law of Attraction
Unlimited Power