Nigeria
Name: Ogbaka Iji FridayFriday's picture.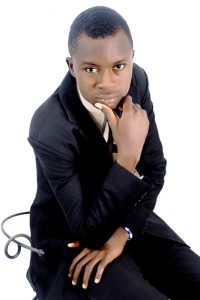 Country: Nigeria
Email: Ijifriday@gmail.comBirthday: March 31, 1989
Education: First Degree
Please describe your vision of a world that works for everyone
The world has changed dramatically since its inception. Life is more complex, more stressful. More demanding especially the transitioned from the industrial age into the information age. With all of its profound consequences. These challenges are not only of a new order of magnitude, they are altogether different in kind.
In spite of all these foreseen challenges I would like to draw my own viewpoint of a world that works for everyone through these two facets of life; the individual and the institution.
The individual: our success or prosperity in our world depends upon the personal success of each of us as individuals; we must first know and accept the fact that; the contrasting principle of growth and hope throughout history is the discovery that "i am the creative force of my life". That every success of the world transcend from we as individuals.
Therefore we as individuals should know that;
Competition driven by the globalization of markets and technology, we must not only be educated, we must strive to re-educate and reinvent ourselves.
Bringing in the principle of balancing the need to meet today demands with the need to invest in the capabilities that will produce tomorrow's success and a better world is unavoidable.
The Institutions: an important organization or public body, which comprises of an aggregate of individuals. By the time we have the types of individuals as mentioned above "the individual" in the long run to occupy various institutions such as the government, ministries, and schools then we are sure of a world that works for everyone, because all of the institutions in one way or the other will affect the people of the world.
What do you see as the most pressing problems facing the world today?
I am not sure it would be possible to give a complete answer for the entire world, because of locations of different parts of the world and an age long civilization of the different parts. Many in the developing world would probably identify access to clean drinking water, food, clothing, shelter, medical help, good roads or the fear of being killed for walking down the wrong street. In the developed world issues like nuclear or biological ware are more important.
But for the purpose of this discourse I shall look at issues as the affect the different part or continents of the world that include:
Government power run amok and corruption: this world problem is common with Africans and some part of Asians and Americans. There is an excessive use of resources such as oil and lack of management (be out of control) principles.
Terrorism and insecurity: many will look at this as a trade mark of the middle east and Asian continent with large terrorist group like the Al- Qaeda group among others. But in recent times Nigeria is facing a group called Boko Haram, also recently we heard of Boston bombing in the united states and so many insurgency with each passing day
The new world order government: it is primarily associated with the ideological notion of global governance only in the sense of new collective efforts to identify, understand or address worldwide problems that go beyond the capacity of individual nation-states to solve.
There appear to have been three distinct periods in which it was progressively redefined, by different western nations including:
At first, the new world order dealt almost exclusively with nuclear disarmament and security arrangements.
German reunification, human rights, and the polarity of the international system were then included.
The gulf war crisis refocused the term on superpower cooperation and regional crisis. The integration of the soviet into the international system, and the changes in economic and military polarity received greater attention.
Today is now used as a projection of selfish dreams of some particular western nation to further their parochial interest.
How do you feel these problems could best be solved?
I see the solutions to these problems as a call to action; the what's, where's, why's and how's for us as a society, community and nations of the world to form a more perfect union, relationships and leadership;
Government power run amok and corruption: in an election year, the leadership qualities of individual seeking positions of authority should be sampled on how they could solve critical problems, with solid proposals to deal with the problems stated above.
Terrorism and insecurity: insurgency are caused by individuals and citizens of a nation, therefore proactive measures through the right leadership on empowerment of citizenry, providing free education at the basic level were good moral ethics and standards are going to be taught, employment and social security enhancement. Also reactive measures as checking out respective borders using modern technological gadgets against proliferation of weapons and light arms.
The new world order government: all the representative nation-states at the United Nation (UN) should push for a bill that will allow a participatory role for all rather than the few western countries struggling to oversee every role and seeing themselves at the seat of affair as a world new order government. Decisions as it affect other nations should not be handle by a single nation-state, it should be a collective one.
Profile
I am Ogbaka Iji Friday, a "suave and debonair" kind of personality, fun with friends and people around me because of my show of camaraderie amongst them. I am an Igede by tribe, from Okwutungbe clan, Itakpa-ito in obi local government area of Benue state; but had a better half of my life in Kaduna south local government area of Kaduna state alongside my parents as at then before moving down to our home state. I happen to be the first child of the family by divine arrangement which has really given me that sense of belonging as a team player. I celebrate my birthday every 31st of March, always interested in purposeful friendship of both male and female, but dislike pride and people I can't trust, reading and listening to jazz songs is my hobby. I believe in the lordship of our savior Jesus Christ and follow the teachings of the Catholic doctrine.
I studied statistics and computer science in order to be part of this unprecedented world of ours and to contribute my quota to the emerging global village through creative thinking, hard work, diligence and enterprising. I am motivated by my vision to make this world a better place for everybody irrespective of any kind of affiliation, through positive solution in enterprising. My role model is my dad, Mr. Ogbaka Barry the founder and coordinator of Moral Restoration and Enlightenment Initiative (MORNET) who I share his vision of a better world and bill gate in providing better solution to this emerging global village. My travels so far are within Nigeria, but will love to visit any of this western country; I love to read life building books and have a drive for personal development.
While in school I served in various religious and social organizations which have helped me to build my capacity as an individual amongst whom are: Nigeria Federation of Catholic Students (NFCS), National Union of Igede Students (NUIS), and one that help me serve in a larger capacity was being a member of Students In Free Enterprise (SIFE) and participated in projects like:
Community mobilization to press for demands from government, in Makurdi.
Good drinking water using the moringa seed in Makurdi.
I also attended so many seminars and workshops which included:
A strategic action for HIV/AIDS organized by the office of the senior special assistance to the governor on NGO and chambers of commerce in Makurdi, 2009.
7th annual career shipping summit organized by ships and ports communications in Makurdi, 2012.
I always look up to serve god and humanity as our vocation as human here on earth. Therefore I have this as my favorite quote "on this day of remembrance, let us honor the fallen by rededicating ourselves to making everyday a day of service." I am always conscious of everything I do with the end in mind that's why "I choose to limit my freedoms-because I understand the sacrifices of the position I one day desire to possess."
Clcik Here to Read My Book Assessments
Books Completed:
As A Man Thinketh
Jonathan Livingston Seagull
Psycho-Cybernetics
Success Through A Positive Mental Attitude
Keys to Success
How to Win Friends and Influence People in the Digital Age
Real Magic
The New Dynamics of Winning
Giant Steps
Goals
The Law of Attraction
Nonviolent Communication
Leadership for Dummies
Unlimited Power
Goal Setting 101