Uganda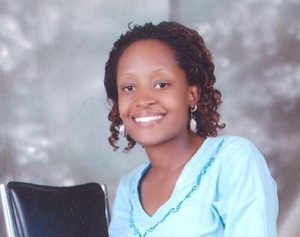 Name: Martha Ainomugisha MugisaMartha picture.
Country: Uganda
Email: marthaainomugisha@gmail.com
Birthday: August 18, 1983
Education: BSc Education (Bio/Chem), PGD Project Planning and Management
Occupation: Youth and Child Empowerment Specialist
Please describe your vision of a world that works for everyone.
It is a world where people are treated equally without discrimination according to race, color, gender and religion. A world where everyone can afford the basic needs in life; food, shelter and clothing; where education and health care are available for everyone and children grow up in loving homes.
What do you see as the most pressing problems facing the world today?
The world's most pressing needs today include corruption, poverty, unemployment, disease, war, terrorism, illiteracy, poor environmental management leading to global warming, crime, and racism
How do you feel these problems could best be solved?
Most of these problems arise from poor/substandard leadership and so I believe raising a generation of leaders who are focused on serving the people they lead and not fulfilling their personal agendas will help. I also believe encouraging a culture of mentoring will help so that skills and abilities are passed on from generation to generation. Quality education, which I believe is learner focused so that we churn out graduates who are satisfied and fulfilled and are focused on serving their communities, can also go a long way in helping.
Profile
My name is Martha Ainomugisha Mugisa. I am married and a mother of one 2 year old beautiful girl. I am the second born in a family of five. I have 2 sisters and 2 brothers. I grew up in Kabale district, in South Western Uganda; it is one of the most beautiful places I have seen and is referred to as the Switzerland of Uganda.
I love reading (I could use the last penny on me to buy a book, even if it takes me another year to read it), traveling, (I have travelled to most of the areas in my countries, all the countries in East Africa and Dream of seeing a lot more of the world) making friends (I thrive on relationships and so my friends and family mean a lot to me), watching movies, news and listening to music.
My best buy and read so far is Rick Warren's Purpose Driven Life; no book, besides the Bible has impacted me so much. I have recently re-watched the movie, Courageous and it is a wonderful one!!! I l love watching series too, my best so far being 24!! I admire novel writer Francine Rivers and her book Redeeming Love greatly impacted my life!
I am passionate about children and youth and my career vision is to use my skills and abilities to impact and transform the life of at least one child and one youth. I am hoping to develop myself to become a leading consultant on Child and Youth affairs on the global scene.
I did BSc Education at undergraduate level and went on to serve in an NGO as a youth worker mentoring young people in secondary schools in Uganda. I was also involved in implementing a Life skills program in schools and communities which was a behavior change communication tool for the prevention of HIV/AIDS. I then went on to do Resource mobilization in the same organization where I raised funds both locally and internationally.
I went on to do a Post Graduate Diploma in Project Planning and Management. I have done short courses in Strategic human resource management and Basic Business and Financial Management which have made me a better manager. I am a Trainer of Trainers and also have excellent skills in organizing workshops and Trainings.
I currently mentor a group of youth and we meet regularly to discuss and brainstorm about issues concerning them in their generation. I also pay school fees for a young boy from a family that couldn't support him in school and I hope this can spread to many more children; my dream is to start a Child Support Program. I strongly believe in empowerment through Quality education and holistic development.
I have been a leader most of my life and I am always humbled to know that there are always people looking up to me and so I try to live with excellence at the back of my mind so that the many young people around me can learn a thing or two from me.
I look forward to learning a lot at the International Institute for Global Leadership.