Botswana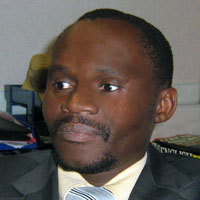 Malaki Kereeditse
Email: mkereeditse@gmail.com
Birthday: 18 August 1970
Education: Diploma in Operational Telecommunications
Occupation: Tender and Quality Officer
Please describe your vision of a world that works for everyone.
This is the world which is not in short of good leaders. Leaders who can instill confidence and self believe in people so they become the best they can be. This is the world where knowledge and wisdom is passed from generation to generation and also amongst people for the good of all.
What do you see as the most pressing problems facing the world today?
The most pressing problem facing the world today is greed. Greed the blinds people to the needs of fellow man. It makes people disregard the welfare of their communities. This result in actions that are not in harmony with the welfare of fellow man. The other problem that exists is that of lack of strong leadership. This lack of good leadership results in businesses and communities not having a clear direction and purpose. This then hampers the performance and profitability of businesses with unfavorable consequences to the workers and to consumers of services of product supplied by the business. In addition poor leadership in the community result in weak communities and ineffective civil society.
How do you feel these problems could best be solved?
Attention has to be brought to such people to wake up and realise that their welfare can not be sustainable when their communities are not happy. Business leaders have to invest in contributing to the welfare of their communities which consumes the products and services of the business. In this way they are both in harmony. Business leaders should invest time and resources in refining their leadership skills and share their knowledge and wisdom especially with the youth and motivate them to be the best they can be. Youth look up to what they perceive as success and will be motivated and inspired to excel. Communities need to support leaders who are committed to continuously improve their leadership skills
Profile
I see myself as positive of optimistic person. I am always looking at ways and means of being a better person as I belief that is possible. My downside has been I forget to look back and recognise what I have achieved in my journey. As a result I have not really enjoyed my success as I am mainly in pursuit of excellence which seems illusive. I am now making an effort to enjoy and be aware of the present moment. My ambition is to start and run my own businesses and have multiple steams of income and run these in a successful and efficient manner and create wealth. With these I will be able to increase the good that I am doing to the community. I wish to actively participate and contribute in the development of the community that I live in.
My favourite books are personal development books. Reading these books gives me energy and enhances the way I deal with issues. I have enjoyed reading Seven habits of Highly effective people by Steven Covey, the books by How to stop worrying and start living by Dale Carnegie. I have signed up for a number of online personal development programmes and I find them useful. In terms of work life I have worked as a Telecommunication Technician working on external line plant for the state owned telecommunication service provider. Having been a project supervisor of a very large telecommunications infrastructure project whose scope included Civil works for external in the installation of copper and fibre optic cable and erection of telecommunication towers.
Currently Tender and quality officer responsible for development and documentation of tenders for Engineering project and preparation of contract agreements. This included compilation of scope of work, packaging of Terms and Conditions of tender, evaluation of bids and negotiations preceding contract agreement.
I have been a member of Toastmasters International; this is a public speaking and leadership development organisation. This is where I worked on myself to improve my public speaking and presentation skills and also to build confidence. I have also been a Trade union leader serving as a member of the executive committee and as an officer responsible for education of members on their rights and obligations. As a member of the trade union leadership, our interaction with Executive Management opened my eyes to business leadership. Over and above exposing me to issues of staff welfare and employee employer relations it built confidence in me that I can be a business leader. I have since been working on myself to achieve this.
Currently I am the National President of Junior Chamber International Botswana. This is an organisation of active citizen whose mission is to provide development opportunities that empower young people to create positive change. It is about being an active citizen and making things happen as opposed to complaining that enough is not being done. I have served this organisation as a Chapter President in Gaborone and also Executive Vice President before being elected as JCI Botswana President. At the end of my term as JCI Botswana President I will serve as Immediate Past President whose role will be to provide advice when required and to mentor guide and support the President.