Liberia
Name: James S. Trotman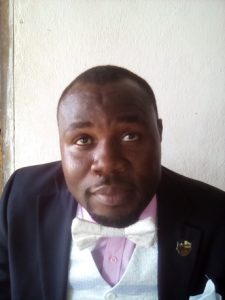 Country: Liberia
Email: jameswisdom324@gmail.com
Birthday: September 22, 1979
Education: High School Graduate
Occupation: Pastor
Please describe your vision of a world that works for everyone.
I would like to describe my vision of a world that works for everyone as: "Education Aid" for every one at the minimum level of a high school graduate at a cross continental basis as needs be or necessary. In addition to that, our world is challenge with the threat of past and future pressure economically, politically, socially. Global and etc, and only knowledge through the microscopic eye of education one can build a defense against such threat!
What do you see as the most pressing problems facing the world today?
I do see "Ignorance" as the most pressing problem facing the world today from the personal/individual aspect to the global international prospective. Besides, history proved that most of the solution to our problems as individuals and nations are knowledge Oriented which implies that every wound or scars reflecting through crises, challenges or problems of whatever form or nature has elements of ignorance sponsoring or driving them. Finally, the Confirmation of this old age adage "The mind is the man;" confers every truth from the social or secular setting and most importantly from the book of all books (The Holy Bible) proverb 23:7b. "As a Man Thinketh so is he; to further beaked up this reality."
How do you feel these problems could be best solved?
To answer this question I would begin with a medical approach that, the diagnosis of a sickness or disease is the first hypothesis to the remedy or cure of it. By this, I do mean that if the pressing problems are born out of the womb of ignorance, then the platform of knowledge sets the required hypothesis to solve these problems specifically and generally. Like for example Medical problem requires medical knowledge and approved, Religious problem Religious approach, political issues through the corridor of corruption, of elections, as well as drowning nation's economical resources requires the knowledge of expansive justice. Finally this applies peace to address wars, Wealth to address poverty prevention for most medical disease and sickness and so forth as the list goes on and on.
Profile
My name is Mr. James S. Trotman born September 22, 1979 unto the union of the late Mr. Austin C. Trotman and TeteeTrotman. I am a Liberian, as well as a High School graduate from the Salvation Army School System William Booth on the Pipeline Road in Paynesville City August 18th, 2002 and a successful (WAEC) candidate 101 280 1131 as number in Division II.
Immediately after my graduation from High School in 2002, I received a sudden invitation from my sister Deborah Trotman from the West African Nation of Guinea Conakry for a visit that dawns a new chapter in my life departing Liberia Saturday October 2, 2002 and arriving Conakry Monday October 5, 2002 by road transportation. Also, being captivated by a strange travelling experiences and the threat of a new language (French) was an arduous challenge for a fresh high school graduate in a French speaking nation for the first time.
Subsequently, as earlier stated; these two challenges were not just the scores to settle but equally open doors of opportunities at the expense of these couples of experiences like: engaging domestic jobs, primary school teacher, a steward in local churches, and supermarket as well as the ability to learn and speak French were all at my disposal with in the first three years from 2002 to the later part of 2005.
Not withstanding, prior to a period of aspirations, hopes, Challenges, fresh experiences and threat of the future, I was privilege to fellowship with a group of believers in a (7) seven days fast at a local Assembly called the Holy Fire Pentecostal Church of which at the Closure of this spiritual exercise came knocking a voluntary request from a member of the group name Bro. Jean Pierre Gomou to assist him at his place of work being a primary school part of a ministry called the Compassion Chapel of Faith Ministry.
Fortunately, this window of voluntary service opened the greatest door of opportunity for me erupting a 3600 pivot of destiny and direction which unfolded when the founder of this ministry Rev. Sunny C. Agouru whose upon interaction for the first time Thursday March 24, 2006 precisely 12:00 noon release a prophecy by the grace of God has been the driving force for the huge impact and Dramatic change in my life up to present. However, realizing the experience of this prophecy ushered me into the corridor of stewardship in various ministries like the compassion chapel of Faith Mission for 2005 – 2009, the Living Grace Ministry from 2009 – 2010, the Winner Chapel International from 2010 – 2012. I returned home August 8, 2012 and join the Winner Intercessory Church of Prayer from 2012 – 2016 June and presently at the Winners Chapel International GSA Road Goshen City.
Gracefully, I am marred to Mrs. Rolander Anderson, and am blessed with three children by the grace of God. Gideon, Channel, Gracious for now.
Click Here to Read My Book Assessments
Books Completed:
As A Man Thinketh
Jonathan Livingston Seagull
PsychoCybernetics
Success through a Positive Mental Attitude
Keys to Success
How to Win Friends and Influence People
Awaken the Giant Within
Empires of the Mind
Maximum Achievement
The Seven Habits of Highly Effective People
Goals
Nonviolent Communication
Leadership for Dummies
The Law of Attraction
Goal Setting 101
The Monk
The Power Within
The Leader Who Had No Title
Full Steam Ahead
Uncommon Leadership
Critical Thinking: Consider the Verdict
How Successful People Think
The Five Second Rule
Questions Great Leaders Ask
The Governor: The Most Important Person on the Earth/The Holy Spirit
The 21 Irrefutable Laws of Leadership
The Business of the 21st Century
The 45 Second Presentation that will Change your Life Forever
Go Pro
Wisdom from Dr. Myles Monroe
Reinvention
The Power of Self Confidence
Goal Mapping
1,001 Wisdom Keys
The Art of Being Human
7 Keys to 1,000 More
The 360 Degree Leaders