Ethiopia
Asrat Worku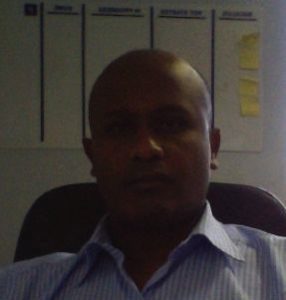 Addis Ababa, Ethiopia
Email: asratworku@gmail.com
Birthday: Dec. 24
Education: Master of Business Administration(MBA)
Occupation: GM in automotive company
Please describe your vision of a world that works for everyone.
I don't expect that unfair world to works equally for everyone. But everyone has endowed with a potential to convert the unfair world treatment to works to his/her side. The world accepts and treats you as the way you wanted to be accepted and treated. To create a world that works for everyone, every one of us should take responsibilities for the consequences of our actions and inactions. We should be aligned with nature to solve natural disasters and we should also get greed free leaders to use resources equally. If leaders discharges their responsibility to success of mankind, others will follow the same pattern, thus, the imperfect world will be converted to heaven on earth phenomena. These will make the world a better place for everyone.
What do you see as the most pressing problems facing the world today?
Number one pressing problem in the world is natural disaster. This includes tsunami, drought, flood, earthquake, land slid, wildfire and etc. These are some of example of natural disasters which we are daily watching them on TV screen and all other means of media. Some of us also face all or some of these problems daily. Most of these natural disasters have been created due to huge damage on the environment. The second most pressing problem is political disaster. The greedy nature of politicians and political system causes to breed manmade problems such as public uprising , terrorism, poverty partly, religious intolerance, ethnic/racial conflicts, injustice and so on. The third most pressing problem is financial crisis. The world financial and economics elites have contributed a lot to cause unparallel pain to citizen of the globe through inflation, unemployment, economical insecurity and banking turmoil. The last but not the least pressing problem of the world is disease and population growth. Disease such as HIV/AIDS, malaria, TB, obesity due to junk food and lack of physical exercises, and communicable disease are being main health problem to every nation. Unprecedented world population growth is reason for scarcity of natural resources which leads to economical colony to underdeveloped nation as developing countries are running to scramble to get land and minerals in Africa and South East Asia.
How do you feel these problems could best be solved?
To reduce the risk of natural disaster, we have to lead and promote a green lifestyle. We need to use a product of green factories and green technologies. Above all, we need to invest on afforestations and planting of trees in urban area. We need to push hard to stop those who are engaged in damaging the environment knowingly or unknowingly. The world should say bold NO for political dictators and undemocratic political system to develop a system that provides equal opportunities and justice for every citizen in a country to lead democratic and peaceful life. A regulated economical and financial system has to be installed in each country which helps to control the development of artificial economy and financial system. Each government has to invest and encourage health and family planning education. UN has to take massive action to fight against communicable diseases across the planet earth.
Profile
The only place I have lived my whole life is in Addis Ababa, the capital city of Ethiopia. I was born and grown up in the same place. I had grown up in a kind of family who used to preach us, all my brothers and Sisters, to be scholars, doctors and to read books. One thing for sure they (our family) are succeeded that most of us loves to read. My first personal development book that I read while I was in mid high school was Dale Carnegie's book translated and compiled to the local language from his different books. My life is not different from most of Ethiopian family. Went to elementary school, high school, university, got job or master degree and so on, this is a kind of similar ritual that every Ethiopian family insists their children to do so. I started working in international business firm and then trading companies for many years in different position. Now, I am a general manger for automotive business firm. I have worked my whole life for a profit making company. I worked as a volunteer for eight months besides my regular job. I have strong belief that I am going to establish a social enterprise that serves the society. The enterprise will be a product of my business knowledge and strong will to contribute to the society. The enterprise will provide opportunities for those who have got the potential and ability to transform their knowledge and dreams to reality to help themselves and the society at large, but, they don't have access to finance, connections and ability to penetrate the market to prove their products and services. Thus, the ideal social enterprise will provide training on various areas to equip the social entrepreneurs with the knowledge that help them to run small and medium level enterprises and find means and solutions to get finance and market to promote their products and services. I would like also to be motivational and positive thinking guru. Most of us are prisoner of our fears and doubts and hence, we don't live our life to the best of ourselves. I would like to motivate and preach my fellow citizen to unlock the shackle that hinders us to release our immense gift and potential to live our life in full. Poverty, drought and disease are our evil enemy since time memorial. I wish to see those problems are eradicated from my country. To convert our wishes to reality all of us should take our share of responsibility to fight those problems and to create abundant and free country that is convenient to live equally for all of us. I made BA degree from Addis Ababa University in Information science in 1997 and MBA from Sikkim Manipal University in 2009. Due to my job nature I travelled to Saudi Arabia, United Arab Emirates, Djibouti, South Africa, Italy, German, India and South Korea. I have travelled a lot more different places in regions in my country. I love to watch movies, doing physical exercise, reading books, magazines and newspapers, and to have quality time to talk to myself.