Nigeria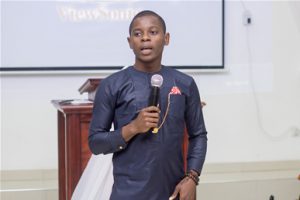 Name: Agbara C PaschalPaschal.
Country: Nigeria
Email: agbarap@yahoo.comWebsite: www.agbarapaschal.com
Birthday: March 13, 1990
Education: B.Tech Statistics[in view]
Occupation: Student
Please describe your vision of a world that works for everyone.
My vision of a world that works for everyone is a world where an individual is conscious of the next individual, a world that is not divided along the lines of religion and ethnicity, a world where tribalism and race is completely zeroed. Finally, my vision of a world that works for everyone is one where people don't rape [take advantage of] others.
What do you see as the most pressing problems facing the world today?
One of the problems facing the world today is the problem of leadership. A leader by my adopted definition is a person who knows the way, goes the way and shows the way. The pungent pill is, the world is filled with people who are yet to discover and lead themselves talk less of leading others. There are misconceptions about being a leader and that is the singular reason why individuals don't know they can lead from where they are and not necessarily being in a position to do so. Most a times, we have square pegs in round holes which are not best fits.
Another pressing problem is racial discrimination. The world will be a lot better without it. Racial discrimination is a foe of the human race. It is anti-human race.
How do you feel these problems could best be solved?
The problem of leadership can be solved by Awareness and sensitization, training as many that will train others. Training is a vital part of it because values have to be instilled in individuals. A leader is one that has got regards for values and ethics so preparing the man for the task becomes essential. Also, the problem of leadership can be solved by having the right persons at the right places.
The fight against racial discrimination has been tough but the backwash leaves me down in the mouth. As a way of solving it, racial discrimination awareness has to be beefed up because the menace is fanning out more than the sensitzation been done to curb it. Bills can be passed to regulate the way the media projects the image of races as good or bad projections can be very easy at pocking on people's minds.
Profile
I'm a young, energetic and vibrant being. My life's vision is to help birth changed minds, and a changed people that are conscious of changing and bettering their environment/world because no nation or continent will thrive without people with the right mindsets. It's always a great thing of joy for me when I do things that birth solutions that play catalystic roles in achieving an ameliorating world. I believe in doing than talking. I believe in solutions and not plenty emphasis on what is wrong without moving forward – solutions!
I'm a groomed Statistician[ The Federal University of Technology, Akure], Alumnus, L.E.A.D Academy/Thomas Wilson Foundation (Nigeria), Alumnus, LEAP Africa (Nigeria), Alumnus, IHAV Foundation (Ghana), GEMSTONE Ambassador amongst others. All these organizations have contributed immensely to my formative years in the strive for excellence and knowledge. I believe in the fact that my skills have to be continuously honed as a strive for perfection. Getting better is a continuous and a life-long process.
I'm an esurient reader and my choice of books vary between autobiographies, Politics, History and religious books. As for movies, I scarcely do but when I'm triggered to, I always settle for those that brings out the genius in me. I love books, prodding minds, travelling, meeting people et al. Some of the books I've mugged up includes; Rage for Change by the LEAP Africa team, Power, Politics and Death by Olusegun Adeniyi, A long way gone by Ishmael Beah, A long walk to freedom by Late Nelson Mandela, A reason to believe by Patrick Deval, There was a country by Chinua Achebe, Americanah by Chimamanda Adichie, Undisputed Truth by Mike Tyson, Accidental Public Servant by Mallam Nasri El-Rufai, I think, therefore I play by Andrea Pirlo, The last 100 days of Abacha by Olusegun Adeniyi, The last Pope and the list continues. Few of the movies I have watched that stirred a thing within me includes; A long walk to freedom, Every child is special, The men that built America (Documentary), Three Idiots, Blood and oil Part et al.
Through my wealth of experience, I've gotten invites to train teens/youths. I also played a role as one of the organizers of 'Polished Pillars' in Akure, Nigeria. At 19, I was saddled with the responsibility of leading an organization that comprised mainly of people above 28years in my church for a year. Finally, I also engage young ones via the one-on-one approach. The responsibiliy wasn't without its own challenges but I was able to surmount the pressures that arose thanks to elderly guidance. As time phased out, I got more strengthened to shoulder the cross.
I belong to a family of nine (parents inclusive) and I happen to be the last child and also the last of the male folks. I hail from the Eastern part of Nigeria that are predominantly Christians. I have travelled a few states in Nigeria and out of the country (Ghana) recently. One of my big Nigerian dreams is to celebrate my 34th birthday (2024) as the Governor of Abia State, Nigeria.