Nigeria
Names: Abiola Temiloluwa Ayobolade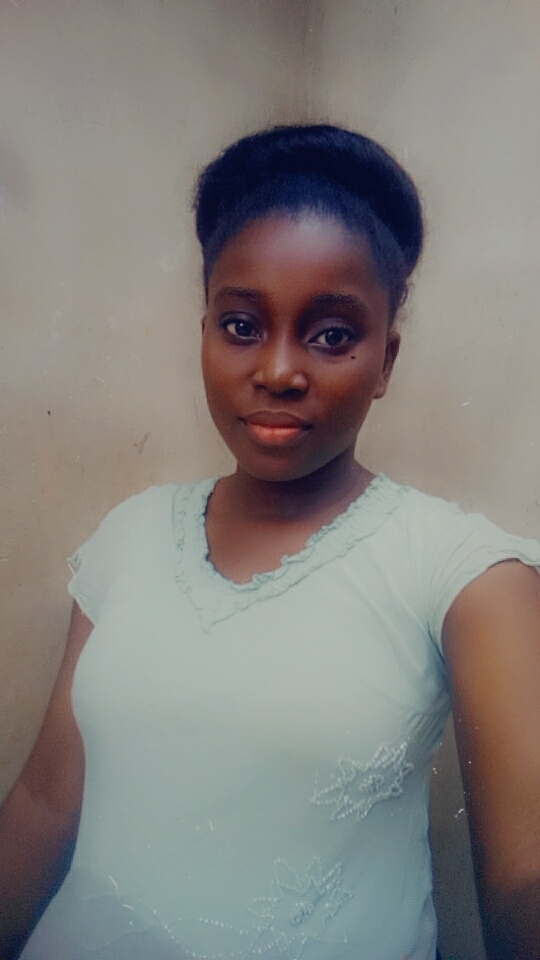 Country: Nigeria
Email: abiolatemiloluwa5@gmail.com
Website: lovellatee.blogspot.com
Date of Birth: May 5, 1996
Education: B.Sc in Microbiology, Masters in view
Occupation: Writing, Teaching and Graphics Design
Please describe your vision of a world that works for everyone.
A world that works for everyone is a world where everyone has the privilege to quality education no matter their class, race or anything. it is a world where no one is discriminated based on what they have or who they are, a world where love rules above all. A world that is free of impartiality, now that is a world that works for everyone.
What do you see as the most pressing problems facing the world today?
The most pressing problem in the world today is impartiality and selfishness. Impartiality and selfishness in the sense that, people want to satisfy themselves at the expense of others and they are not ready to see others for who they are, instead they judge others based on background, race, color without even giving the person a chance. If everyone treats every other person the same way then there would be no killing based on race, rape would not be something that would cross anyone's mind, poverty would be reduced, corruption would not even occur in the world today. If everyone keeps on saying, if it is not affecting me then it is not my concern, then the change we want would not happen.
How do you feel these problems could best be solved?
I don't know if these problems can be solved completely, however what can help would be orientating others on the value of life. The reason for so many bad things in the world today is because some people do not value the lives of other people. Let people see that there is value for others no matter the color of their skin, the country they were born, the shape of their heads, who their parents are or what they have. There should be a sensitization to love others, and it starts with just one person. We need to stop waiting and start acting. Stop criticizing and effect the change yourself.
Profile
I am Abiola Temiloluwa Ayobolade. I am a Nigerian and a native of Osun state in Nigeria. I was born on the 5th of May, 1996. My main objective in life is to make a positive difference in the world through my talents, skills, experience, expertise, and educational background and to be a positive influencer to the generations before and after me. To accomplish this, I need to gain knowledge and be vast in different fields. I am a well-organized, determined, diligent, result-oriented, good team player with interpersonal skills in order to maximize and achieve the organizational goal. I am fluent in both oral and written communication skills, a computer literate that possesses good human public relations (PR) and problem-solving skills, and an efficient organizer. I graduated from Adeleke University where I obtained a bachelor of science in Microbiology in year 2016. Alongside my bachelors program, I obtained a certificate in Adobe Dreamweaver from New Horizons organization. After my national youths service corps which is a compulsory program for youths in Nigeria, I went for my master's degree. I am currently on my Master's program at Lagos state university, I have completed my course work and I am just waiting for my research defense. I am currently self-employed as a professional writer, I help in research writing, content, and copywriting. I am also a professional teacher, I run an online school. I learned graphics designing and digital marketing online and I have made a career out of what I learned. I have a personal blog, lovellatee.blogspot.com where I write and post articles to inspire others. I have worked for organizations like Loladson as an assistant analyst, I worked there for a year as an intern for 6 months. I worked in Royal crown school as a head teacher for three years which is where I got my professional experience as a teacher. During my stay there, I was able to help children find love for learning and reading by introducing creativity into my teaching style. During my national service year, I joined a group called peer education trainers, a group that orientated and created awareness on diseases in the communities. We also helped by organizing free HIV/AIDS, blood pressure and malaria tests for the community, I am the general secretary of Visionary teens and youths foundation, a foundation which is aimed at helping teenagers and youths to discover, define, and deliver purpose. We host three programs every year, every program we equip teenagers and youths in their academics and empower them to start a business. I am also part of another foundation for women\'s mental health where we help women who are going through mental issues. Apart from the foundation, I design and write for Joy Inspirational, a foundation that inspires everyone to do better things in life. I love reading, learning, writing and watching motivational videos. My Key Skills are as follows: Competent with Microsoft Office; Excellent writing skills; Proficient in English language; Excellent in Mathematics and Data analysis; Excellent in reading and writing skills; Great Teaching skills; Digital marketing skills and Good Leadership skills.