Rwanda
Name: Ntagisumbimana Theoneste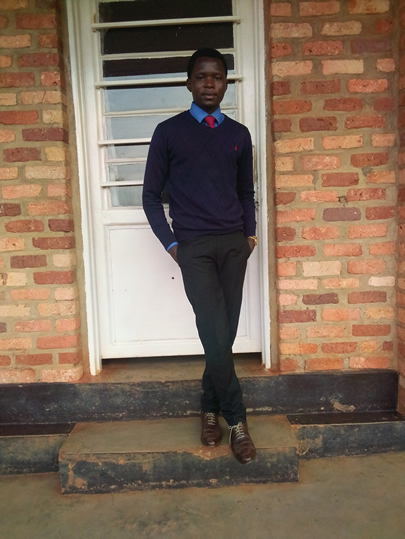 Email: ntagisutheo@gmail.com
Date of Birth: April 15, 1990
Education: Bachelor degree Geography with Education
Occupation: Secondary School Teacher
Please describe your vision of a world that works for everyone.
This world can be possible if everyone has an everyone can winning attitude. In this way we cannot see a human being put down another human being. to make a long story short the people of all Nations must have " live and let live" as their motto.
What do you see as the most pressing problems facing the world today?
The most pressing problems facing the world today are the different believes and vision of our today's leaders, this lead to different behaviors toward each other therefore fire breaks overtly or subtly among nations this lead to the suffering of the people of these Nations.
How do you feel these problems could best be solved?
There are many solutions that can be given to these problems but some of them are the best and more fruitful and if it is up to me decide, I would begin by trying to change the mentality of future leaders this can be done by preparing as many young people as possible across the world by providing them the best leadership skills and philosophy to guide them.
Profile
My Name is Ntagisumbimana Theoneste born and brought up in Rwanda , Single and 31 years old , I am currently working as teacher in Ecole Secondaire Save. I am member of creative commons Global network & creative commons Rwanda. I am adaptive, hardworking, patient and I possess good leadership qualities and I think these are some of my strengths. I have learned that long-term goals are best achieved when broken into short term goals. My short term goal is to gain competence (attitude, skills, knowledge and values) to achieve my long term goals. That is why I choose to collaborate with more skilled and experienced people in this ever changing world to fulfill my dream. I always try to remain active and my strength is my punctuality and my ability to gain more and more knowledge and skills and that make me adequate for the challenges of the world. I believe the world is going through phase of revolution or inevitable changes, and is important to be up to date regarding New knowledge, skills and technology as well. My mind is very sharp at grasping any educational aspect of anything therefore that makes working on educational issues very easy for me. I have also had several accomplishments I have become quite proud of, including: I am 2 years experienced teacher in educational activities and research related activities, as well as holding certificate as Microsoft Certified Educator, certificate in Technology Enabled Learning, certificate in practical oriented training on computer and internet, and Certificate in Akazikanoze Work Readiness Training to mention few. I have also learned different free online courses including: The CompTIA A+ 1000 – Part 1 course. Executive Assistant Skills course, the English Grammar and Vocabulary – Discussing Work (Advanced Level) course all these course's certificate are accessible via this link https://alison.com/notifications In the same way I did conflict management course and get a certificate of completion it is accessible via the following link https://online.atingi.org/pluginfile.php/1/tool_certificate/issues/1640708948/7115512368TN.pdf
My family consist of two members: my mother and me. My mother is a farmer she performs her daily work in her field. She has been an important part of my life and has encouraged me much to take this step and I am sure with her love, support and blessings I shall fulfill all my dreams. Talking about my education background, I did my primary education from G.S Kibangu; My O Level education from E.T.Nyantanga, My A Level Education from E.S.St Esprit de Nyanza. After that I got enrolled for the University Studies from( 2015-2019) for my B.ED (Geography with education) from University of Rwanda College of Education (UR-CE). My hobbies are reading books and working out, I usually spend my leisure time reading books some of my favorite books are you can win by Shiv Khera, how to win friend and influence people by Dale Carnegie, who moved my cheese to mention few.