Argentina –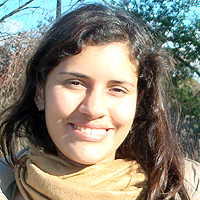 María Rosario Read
Capital Federal, Argentina
Email: maria.rosario.read@gmail.com
Occupation: Housewife
Please describe your vision of a world that works for everyone.
This is going to sound extreme but I sort of think it'd be lovely if people where given food and water and shelter and worked using their unique talents to helps others. That way the everyone would be healthy, and less people would be fighting over money or
food.
What do you see as the most pressing problems facing the world today?
Individualism, ignorance, poverty, despair, war, greed
How do you feel these problems could best be solved?
Education (to help prevent some problems long term, to improve some socio cultural problems) empathy, health care, union ..in every way possible
Profile
I have many interests: health, medicine, reading, psychology, meditation, yoga, cooking. My dreams: I have always dreamed of helping people in someday, I have always being drawn to different subjects, but they were all where careers that allowed me to be in contact with people. I have always being torn between studying Medicine, Psychology or Neuropathology.
My Favourite movie is Shaw Shank Redemption. I was born in Colombia, and adopted when I was 6 days old by an Argentinian diplomat family. After about 2 months we travelled to Copenhagen, Denmark, I lived there until I was 2 years old. My family and I travelled to Buenos Aires (Argentina) I stayed in the country until I turned 5 and then moved with my family to Tokyo, Japan. There, I attended the International school of the sacred heart, until 1996. I moved to Buenos Aires, lived there until I moved with my family to Pretoria, South Africa in February 2000. I finished high school in 2002. In 2006, I returned to my home country Argentina. Though I'm glad to be back, I find I haven't settled as well as I have in the past when I was younger. Since I was quiet young I attended meditation workshops. I don't know what to say except I'd be delighted to be given this opportunity, I've always dreamed of an opportunity like this.