Nigeria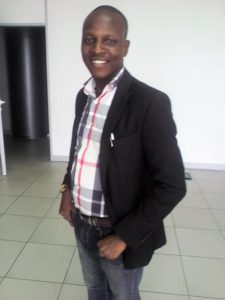 Name: Ajayi Oluwole Olakunle
Country: Nigeria
Email: thepotentialman@gmail.com
Birthday: April 28, 1987
Education: B.Tech Biochemistry
Occupation: Business Advisor/Real Estate Consultant
Please describe your vision of a world that works for everyone.
My vision of a world that works for everyone is that of a world that offers great opportunities to the people to fulfill their individual and collective dream through effective and efficient leadership. John Maxwell said, "Everything rises and falls on leadership". So a world that brings about socio economic development, a world devoid of nepotism, corruption, war, greed, political aggrandizement. A world of equality between the rich and poor, high and mighty, the political elite and the masses. A world of employment for all, sustainable best practices, mutually beneficial governance at all levels. A world that helps everyone maximize their potentials irrespective of their background, race or ethnicity.
What do you see as the most pressing problems facing the world today?
The most pressing problems the world is facing today are terrorism/insurgency, social unrest/violence, legalizing illegality, corruption, unemployment and hunger/famine. All over the world today and more than ever before, terrorism is fast crippling our world. Several extremist groups such as ISIS, AL-Shabab, Boko Haram just to mention a few keeps waxing stronger in our world today. A lot of countries are not able to recover from the destructive effects of this terror groups. This is making a lot of economies globally to retard. Recently, President Donald Trump placed a travel ban on some countries he perceived to be terrorist countries. They have so much wreak havocs in our world today that the earlier we curb them the better. There is social unrest and violence everywhere. Places such as Syria has not known peace in years. Palestine and Israel are always at logger heads with each other. Egypt is not yet recovered from the civil war that ravaged it few years ago. A country with huge economic potential was dragged backward as a result of violence. Today in our world, abortion has been legalized in some parts of the world. Same sex marriage and transgender is on the rise. Kim Kardashian in the United States is an example of a bad influence on the youths all over the world today. Incest has even been legalized in some parts of the world. So much problems in a beautiful world! Corruption, unemployment and famine cut across the borders in our world today. Migration crisis faces so many countries of the world which has caused a lot of hullabaloo, even the varying policies made could not solve this issues. Something must be done and the solution is not far-fetched.
How do you feel these problems could best be solved?
That is why I am here. I am a fellow of the President Obama Young African Leaders Initiative YALI RLC. The solution is true leadership. Selfless leadership is the way. Service without fear or prejudice is the antidote. We need a new crop of leaders, brilliant young minds with passion and commitment to steering the ship of the world from its problematic paths to a development and growth path. Leaders that will see their roles as a calling and not an opportunity to amass wealth or trample upon the right of others. We need sincere leaders that will lay it bare, working assiduously for the masses and not seeking to please some few corrupt rich elites. The world needs leaders who are visionary, committed, selfless, integrity oriented, honest, dedicated, loving/caring and having excellent skills in communication, societal development, interpersonal/relationship management, innovative and inventive in thinking and always seeking to protect the rule of law. Justice must be given to the deserved and not the people who could buy their ways through.
Profile
I am the managing director of Diamond coin consulting and services, a registered management consulting, Human resources training/development and Marketing services in Nigeria with about seven years' experience on the field. I am also the founder of Global Entrepreneurship Platform (GEP), a non-for-profit organization that breeds young entrepreneurs in Nigeria. Since inception in 2014, more than one thousand youths have been trained within and outside Nigeria.
A very good mentor, I am the founder of Lagos Mentors network. This is a network of individuals that mentors youth in different sectors ranging from business, leadership and public management. I have a background in Biochemistry from the Federal University of Technology, Akure (FUTA), and have more than six certifications from local and international management professional bodies including Nigerian institute of management (NIM), Institute of strategic management of Nigeria (ISMN), Project Management Professional (PMP), Health, Safety and Environment (HSE), Daystar Leadership Academy (DLA).
In 2014, I discovered a radio and television presenting talent. This led me to intern at orange FM in Akure and was also featured on Ondo State Radiovision Corporation (OSRC) in the same year. In 2015, as a result of his social enterprise strides, out of 9,000 applicants, of the 105 that was chosen as fellows of the prestigious President Obama young African leader's initiative (YALI). In the same year, I became a green advocate due to my contributions as a climate advocate. In 2016, I was also among the current recipient of the 1,000 successful Tony Elumelu Entrepreneurship program of which 45,000 jostled for.
Kunle has intern at the prestigious Enterprise Development Center (EDC) of the Lagos Business School (LBS), where I worked with the Alumni manager to work on various entrepreneurs that are alumni of the school. A seasoned trainer, I recently co-facilitated on the Google digital training program for youths in Nigeria.
I am a presenter, speaker, social entrepreneur, consultant, mentor, climate advocate and a coach. I am also a member of ONE.org, a campaign and advocacy global organization against poverty and extreme hunger. I believe strongly that Africans can rebuild Africa. I have travelled to about three countries in Africa, Namely Benin Republic, Togo and Ghana. My favorite book is "Ideas Rule the World," by Sam Adeyemi. I love movies that stimulate the mind and boost creativity. I love epic movies like "Three Idiots" and "The Great Wall" remain my favorite movies. I have also volunteered with a lot of organizations.
I have also won several awards few of which are First Editor-in-chief of a multinational company (Golden Pasta Company Ltd, Lagos) 2010, Certificate of Honour 2011 Graduating Class. FUTA Student Union, Honourable Member of the year NABS FUTA 2011, Certificate of Membership Nigerian Association of Biochemistry Students 2011, Certificate of Participation by the World bank (2011 world bank essay competition), Most Popular Student MFMCF FUTA 2011, Best Industrial Training Student, Golden Pasta Company Limited 2010, Certificate of Stewardship as Drama Coordinator MFMCF FUTA 2010, Most Friendly Nassite (NASS FUTA) 2010, Certificate of Stewardship as General Secretary, MFMCF FUTA 2009, Certificate of Stewardship as Public Relations Officer, (NASS FUTA) 2009, Most Popular Stallite, Nigerian Association of Biochemistry Students ( NABS FUTA) 2008, The Best Class Representative, Nigerian Association of Science Students (NASS FUTA)2008