Nigeria
Afere A Lawrence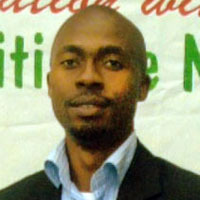 Email: ablawrence2002@yahoo.com
Birthday: May 8, 1983
Education: Business Administration covenant university, Nigeria.
Occupation: student
What is your vision of a world that works for everyone?
Taking the lead to meet people's needs.
What do you see as the most pressing problems facing the world today?
Management and leadership
How do you feel these problems could best be solved?
Raising expert managers and leaders. Also God fearing ones.
Profile
I was born in the year 1983. Growing up i discovered that my country is in dear need of effective leaders. I seriously made up my mind to be raised as a needed leader. Although, it has not been easy in my country but I am well focused to it. With this need, I enrolled in a university that raises leaders in God's ways. up till now, I still have a great passion for the development of my nation. To help me attain my goal in life, i do things that motivate me. I climb the shoulders of great leaders by reading their books and listening to their tapes. I always think if i can be the only one to solve the leadership problem of this nation. With this, i would soon open a foundation that aims at spreading positive vibration amongst the youths in my community. I love to see myself develop everyday. I don't like to meet myself the way i leave it yesterday. Very soon my profile is going to include how I positively change my country.
Click Here to read completed book assessments
Books Completed:
As A Man Thinketh
Jonathan Livingston Seagull
Real Magic
Success Through A positive Mental Attitude
Seeds Of Greatness
Your Sacred Self
Unconditional Life
Awaken The Giant Within
Psycho-Cybernetics 2000
Build A Positive Mental Attitude
Manifest Your Destiny
Keys To Success
10 Secrets For Success and Inner Peace
Nonviolent Communication-A language of Life
The Magic Lamp
Giant Steps
Unlimited Power
Full Steam Ahead!
10 Days to More Confident Public Speaking
The 7 Habits of Highly Effective Teens
Built To Last
True Prosperity
The Teenager's Guide To The Real World
Entrepreneurship, The Art Of Succeeding In Business
Communication Miracles for Couples
Change The World
Getting Funded
Demystifying Grant Seeking
Why True Love Waits
Wealth Without A Job
The Power Of Failure
30 Lies About Money
The Illusions of Entreprenurship
Banker To The Poor
Matrix Energetics
The Autobiography of Martin Luther King, Jr.
Natural Capitalism
The World is Flat: A Brief History of The Twenty-First Century
Developing the Leaders Around You
Starting & Running Your Own Small Farm Business
You Can Farm
You Were Born Rich