Bolivia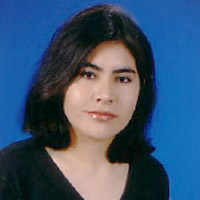 Ana María Gamboa-Rocabado
La Paz, Bolivia
Email: annagamboa@hotmail.com
Birthday: May 23th, 1982
Education: Bachelor, Business Administration
Occupation: Private consultant
Please describe your vision of a world that works for everyone.
I imagine a world where all kinds of institutions are capable to direct, show a clear horizon by empowering creativity in all individuals. Citizens living their own expectations and life projects should be more responsive to face challenges or encourage self-esteem, which should represent a strong force for the expansion of innovation, economic growth, responsibility and liberties.
What do you see as the most pressing problems facing the world today?
Human resources predation. This problem affects especially to developing countries because employees or workers are treated like any sort of assets, incapable of sensing the world around them, and with lack of knowledge or creativity. This is certainly a huge mistake, and I do not support this kind of predation. When employees are devalued and predated, this practice assumed by some institutions brings negative consequences: individuals unable to identify goals in life, with an execrable lack of self-esteem, and the deterioration of personal identity. As a result, human resources predation turns into a chain of poverty and a vicious cycle of failure.
How do you feel these problems could best be solved?
True leaders must change the situation of human resources predation by recognizing that citizens, individuals, and all kinds of workers have entitlements, along with the need to satisfy their life chances. In my opinion, leadership theory provides useful tools to modify human behavior, allowing society to commit in favor of a more tolerant attitude, capable to recognize the irreplaceable value in any human being. Liberating inner forces one has, is equivalent to finding skilful leaders that should awake their ambitions, and at the same time meet citizens ´entitlements to forge a more productive and democratic new society.
Profile
I was born in 1982, and since my childhood I felt very attracted and admired those millionaire and famous, owners of big companies, but those persons who particularly came from humble or poor social origins that built their fortune and success as a result of taking to the limits human potentials and capabilities. Therefore, I decided to study business administration at Major University of San Andres (UMSA) from La Paz, Bolivia. After graduating in 2007, I worked at the department of internal auditing at UMSA, as part of a scholarship program offered to the best students who got a degree at the School of Financial Economics. For me, this was a great incentive and an opportunity to cultivate new abilities as an organizational consultant.
I worked for two years at the department of internal auditing as management consultant. This experience moved me to go into the financial world, and since then I´ve got high hopes to be part of other organizations that give me the chance to design "grand strategies" of competitiveness, together with my own professional and human development. For the next five years, I worked for two multimillion companies related to the banking system, and although both institutions did not satisfy my expectations, they provided me an ample specter of knowledge about what are those things one "should not do" when managing human and economic resources. My experience in banking pushed me to pay more attention in two areas I consider crucial for an effective management: institutional design and management of human talent. Both aspects drew my interests to get specialization in organizational engineering and methods to deal with efficacy any human resource. Currently, my professional experience and personal dreams helped me to spur a sharp consciousness about the crisis of leadership many organizations have, as a consequence of social crisis in developing countries. More specifically, if institutions and societies do not invest and value rightly enough human talents, they are not able to work with good performance and, above all, they do not understand that people, when proper conditions are set, have huge capacities to be encouraged and discovered. We must be careful not to confuse that human beings are not possessions to be managed but human richness claiming to be directed, trained, motivated and ethically valued. This is my concept of success in life and institutionally, if we analyze leadership or human talent from a developing country like Bolivia. My dream resides in getting the opportunity to be director of competitive organizations which have a clear emphasis regarding the virtuous cycle comprised by trust, legitimacy, solid leadership and human robustness.